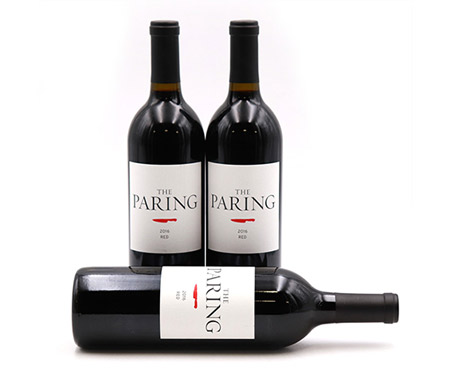 If you're looking for a wine that over-delivers for the price, we have the bottle for you! Our expert team searches high and low to locate top quality wines at every price level, and 2016 The Paring Red Wine is a gem that shouldn't be missed.
From the owner of the legendary Screaming Eagle, comes this incredible, 93 point, Bordeaux blend that you'll be excited about! The blend is made up of 50% Cabernet Sauvignon, 20% Merlot, 20% Cabernet Franc & 10% Petit Verdot. Not only is this wine absolutely delicious, but it's priced at only $22.99!
The winemaker's notes are as follows: "Utterly fascinating nose mixing lifted black fruit, savory green herbs and dark notes of grilled bread, espresso and anise. Fills the palate with bright red fruit and black plum. A constant play between sweet and savory. Gentle and dusty tannins lead the way into an incredibly long and precise
finish. Mulberry sweetness and a wonderful tension between tannic structure and bright acidity. Balanced and refined, a study in elegance." – Matt Dees, Winemaker
This $22.99 wine is from an A+ vintage and "tastes like it costs three times the price." – JD

This wine is a steal at this price, so take advantage of this great buying opportunity! In stock and ready to ship.
Cheers!