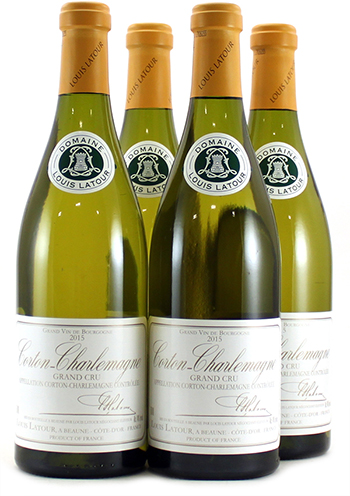 "For my money, Corton Charlemagne is as good as any Grand Cru white Burgundy (Montrachet, Chevalier Montrachet, etc.) at a fraction of the price. It's the most serious Grand Cru white Burgundy at the most reasonable price point." - Dave Sokolin

Corton Charlemagne is also the most popular Grand Cru white Burgundy for a reason – almost every bottle is generally great. Louis Latour is consistently one of our top-selling producers of Corton Charlemagne, year after year. The Latour family is the largest landowner of the Corton Charlemagne appellation and has been producing wines for over 200 years.

The 97 point 2015 Louis Latour Corton Charlemagne is one of our new arrivals and is a must-own wine for the season. This high-scoring gem not only comes from a highly regarded producer, but it also comes from a great vintage. And at only $109 per bottle, this is a steal when it comes to Grand Cru white Burgundy!

"...2015 saw a rare phenomenon in Burgundy: a good vintage for both reds and whites." - Wine Enthusiast

"The very warm, dry growing season of 2015 yielded Burgundy's fleshiest, most opulent white wines since at least 2009. The 2015 whites are clean, pure and rich, favoring ripe orchard and soft citrus fruits over minerality, as is typical of very warm, sunny years." - Vinous Media

This is a perfect Grand Cru white Burgundy to have on hand for summer enjoyment! In stock and ready to ship.

Cheers!