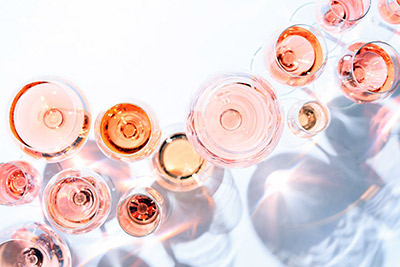 Wine lovers seem to love to Rosé All Day, especially millennials, and Rosé has taken the wine world by storm. It's now said to be the fastest growing wine category in America. Its popularity has resulted in phrases like "Rosé All Day" and "Yes Way, Rosé." There are nearly 3 million pictures on Instagram tagged #rosé. The right marketing and branding, coupled with attractive packaging and influencer associations came together to further propel an already hugely popular wine into a stratospheric level. Another influence in its rise came from celebrities joining the movement and producing their own Rosés, including Brad Pitt, Angelina Jolie and Bon Jovi.

Beyond that though, there's a big reason that it's so popular, and that's because it's delicious and so versatile! Rosés can be enjoyed with a variety of food, making it a perfect choice to pour during summer days. It's great for the beach, a picnic or sipping poolside. The price is nice, too. You can find really great Rosés in the $20 range, and sometimes for a little less.

Provence is the Rosé capital of the world, and chances are, if you've been drinking Rosé, you've likely had one from Provence. The Rosés from this region are crisp and light and not fruity or big. Today, we're sharing a few of our best-selling Rosés that our customers love.

2018 Diving Into Hampton Water Rosé - $19.99

This Rosé was released last year for the first time, and it quickly became one of the most sought-after Rosés. Wine Spectator ranked the 2017 vintage higher than any other Rosé on its list of Top 100 Wines of 2018. Diving Into Hampton Water Rosé is a collaboration between rock star Bon Jovi, his son and the famous winemaker, Gerard Bertrand. The entire 2017 production sold out very quickly on allocation, and we'll most likely see the same thing happen with the 2018 vintage. The bottle is gorgeous, featuring a graceful woman diving into a pink colored pool. It's made up of a blend of Grenache, Cinsault and Mourvedre grapes and is priced at only $19.99. This vintage will disappear quickly, so order yours before it's sold out!

2018 Chateau Saint Roseline Cru Classe Lampe de Meduse - $16.99

This Rosé is one of Provence's best kept secrets. We started offering the 2016 vintage two years ago, and we immediately knew that it was a winner. If you think the bottle is beautiful, just wait until you taste the Rosé! Our team is blown away by the quality coming from Chateau Sainte Roseline, a prestigious, one thousand year old terroir and one of the richest historical sites in Provence. This Rosé is one of the few in Provence to have achieved the elite 'Cru Classe' status, a mark of supreme quality. It's priced at only $16.99, but don't fear underpaying for a great Rosé.

2018 D'Esclans Whispering Angel Rosé - $19.99

This Rosé is always a HUGE best-seller at Sokolin. The '18 vintage has a beautiful, pale pink color with a crisp and pure finish that exemplifies Provencal Rosé. It was created by Sacha Lichine, son of the famous Alexis Lichine, who spent time working at his family's chateau in Bordeaux. Whispering Angel Rosé is a world-class Rosé that is priced at only $19.99, yet it tastes like it costs twice the price.

2018 Miraval Rosé (Pitt – Jolie – Perrin) - $22.95

Miraval Rosé has been one of the most popular Rosés for the past few summers. It's always a highly anticipated arrival and is a huge customer favorite. Brad Pitt and Angelina Jolie teamed up with the famous winemaking Perrin family of Chateau Beaucastel, and together created an amazing, sought-after Rosé from one of the most prestigious estates in Provence. It's a pure expression of Provencal Rosé that is priced at just $22.95.

2017 Domaine Ott Rosé Cotes de Provence Chateau de Selle - $39.99

Domaine Ott has always been the leader of quality when it comes to Rosé, and it has a certain je ne sais quoi that keeps people coming back for more, year after year! It's at the top of the Rosé quality hierarchy and is arguably the most recognized Rosé on the planet. Customers love this wine, and demand increases every year. Chateau de Selle is one of Domaine Ott's premium Rosés that's sure to impress. This is a Rosé that ages well.

Cheers!