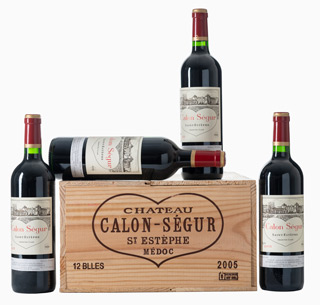 "Daron, appreciate having you on the pipeline, your service is so fast and reliable. Thanks so much!"
- Glenn
"Received my wine ~ thanks so much for your great customer service!"
- Marion
"Chris is always ready to provide valuable insights and recommendations whenever I need them. His service, selection, and pricing remains top notch! Whether you are a beginner or an experienced collector, I can't imagine a better person & store to help you along the way!"
- Sam
"As I became more interested in wine, I was introduced to Sokolin by a friend. In the past three years, there has truly been a relationship developed both with Chris, as well as several other folks at Sokolin. They are truly partners in this hobby; not simply a retailer looking to make a sale. From expert advice to sourcing bottles where provenance is critical, Sokolin checks all the boxes and then some. Sokolin is a trusted partner in wine."
- Jamie
"Sometimes when I am traveling, I have stumbled on some gems and hard to gets. Chris has never failed to find them for me and chase them down. Always fast and efficient service."
- Brian
"I've been doing business with your company for over a year now. During that time, I've really enjoyed working with Chris Kiegiel. He's very knowledgeable and a class act. I've been collecting wine for over 30 years and have finally found someone who understands what I'm looking for and always comes up with great suggestions. I can call up Chris to share a story I read in Parker, for example, and he always shares my excitement. In short, Chris is as passionate as I am about the wine and that's really saying something."
- Paul
"Certainly the best personal customer service online. Great selection, reasonable prices, a slam dunk for purveying fine wines! My wine palate has expanded five-fold in the last year, thanks to Sokolin's amazing selection of Old World wines and New World gems. All bottles handled with care and delivered with proper temperature control. For anything I cannot pick up while I'm tasting at the wineries, I buy from Sokolin. I've developed a relationship with my wine salesman at Sokolin to the point where he knows my palate and makes stellar recommendations, based on his knowledge of my preferences and favorite wine regions."
- Jake
"I discovered Sokolin last year while buying fine wines for my daughter's wedding. Then kept going, buying slowly as Daron sent promotions. Always best-year vintages, great names and fair prices (I checked). Over the past year have bought $40,000 of great wines, starting a superb wine cellar of over 400 bottles. Am delighted where we are, and plan to continue."
- Mike
"Kara DeSantis has simply exquisite taste in wines! She has managed to consistently strike the right tone in terms of taste, style and cost. Corporate and personal gift giving has never been easier with Sokolin Wines and Kara is an integral part of all of this."
- Julia
"I will be blessed with my 35th wedding anniversary next month. Every five years my wife and I have celebrated by sharing a bottle of 1982 Chateau D'yquem, a bottle that has become increasingly hard for me to find. I was afraid our every five years tradition would come to an end this year. But then I discovered Chris Sotirake. Once I shared my story with him he accepted my quest as a personal challenge. Not only did he find the bottle I sought but he was able to offer it at what I consider to be a very fair price. His commitment and level of customer service was truly off the charts. I am honored to offer my unqualified endorsement of Chris and Sokolin and look forward to growing our personal relationship in the future."
- Ashley
"I have been purchasing wines from Sokolin for years—mostly Brunellos and Barolos, and have enjoyed the ease of purchase, the selection, the prices, and the direct relationship with one wine consultant. I highly recommend Sokolin."
- Mitch
"Sokolin has become my go to vendor for difficult to find wines at very attractive prices. I've also discovered some new wines that have become favorites.
As an aside customer service by Chris has been great with timely alerts about arrival of purchases and easy storage during periods of bad weather."
- Fred
"A bargain is only a bargain if it offers quality. I like Sokolin because that principal is at the core of its business: Sokolin sells quality. Even so, a business is personified by its employees. In my several years doing business with Sokolin, I have found Chris to be a perfect expression of the company. He is attentive and quickly responsive to questions and requests, and his word is absolutely reliable. I wish more businesses were as well put together."
- Bernard
"I greatly appreciate the professionalism and prompt service that Sokolin Fine Wine Merchants delivers to all its customers, even a smaller one like myself. Kara was right on top of sorting through the logistics of my deliveries in a very timely manner."
- Steve
"Sokolin is my go-to wine source. They have a great and diverse collection of wines and their internet site is excellent. Their customer service is beyond comparison - Chris Sotirake is a pleasure to work with. He is extremely helpful and knowledgeable and will always go above and beyond to help me with any request that I have."
- Kim
"Chris, I can absolutely say that I have always enjoyed impeccable service from Sokolin and that great service has continued since you have joined the team. I have always received immediate responses to any questions and have had my orders placed and confirmed very efficiently. I have especially enjoyed Sokolin's willingness to store my purchases for an extended period while I am completing my new home and wine cellar. I am looking forward to many more years in the future stocking my cellar with great wines from Sokolin. I must also add that your prices have been very competitive and I believe have typically been the best one could find anywhere on the internet."
- Robert
"Daron, we are vacationing in France and Italy, and we have begun to realize how fortunate we are to have the wines we have at home and all the wines you have helped us explore over the years. There is nothing new that we are running into, and the great restaurants are charging prices that would make NYC restaurants blush."
- Joe
"Dealing with Daron and Sokolin has always been a pleasure!"
- Mary Kate
"I've likely bought 3x more from Sokolin since engaging with Daron. He's a real pro and I appreciate his guidance on my account."
- John
"Daron, I enjoy working with you. You have a fabulous inventory of the best selections, reasonable pricing, and always a pleasure to work with you."
- Mike
"Sam is the friendliest... He is very attentive to your likes and incredibly approachable. His offers are always interesting and delicious."
- Jennifer
"I have been Sokolin's client for quite a few years now. They have always been my go-to store every time I occasionally travelled to NY. Having moved to NY recently, purchases have become more and more frequent. Daron W., my sales representative, is constantly putting nice wines at the right price before me. I would, as I have, recommend Sokolin to any wine lover without hesitation."
- F.L.
"For me Sokolin wines has been nothing but a positive experience. Their prices are fabulous and the website is very easy to navigate. Dealing directly with Kara DeSantis has been great. She has been very professional and very pleasant to deal with since my first purchase. Everything is shipped on time with no hassles!"
- Joe
"I have been doing business with Sokolin for a couple of years, and it has been a great experience so far. They have a broad set of bottles, are constantly showing me interesting opportunities and the delivery is on time. I definitely recommend them!"
- Luiz
"Thanks a lot Kara for your fast and professional assistance. I really appreciate good customer service."
- Karina
"You are great and so helpful as always."
- Chris
"I am in the marketing business. I strive to create great customer experiences for out clients. The best brands in the world — like Amazon — build this into their core. Sokolin is just such a company. And, this is exemplified by my sales rep Daron Watson. Great wines. Unbeatable prices. Exceptional service. Delivered."
- Mark
"Thank you Kara for your help. We greatly appreciate your wonderful customer service."
- Ingrid
"A good portion of my cellar is stocked with wines I've purchased from Sokolin, and for good reason: quite simply Sokolin is the best in the business. The service, wine quality and selection, and the prices are all top-shelf. I used to trouble a bit about that future day when buying age-worthy wine would no longer make sense for me. With Sokolin, there's trouble no more."
- David
"Sherri, thank you so much for your wonderful service and attention to the details."
- Gregorio
"Thank you, Sherri, for all the help over the last several years. May your glass of Bordeaux never run empty..."
- Gary
"We had a great ordering experience. Sherri always replies to us efficiently and effectively."
- Carman
"Daron, thank you for your help today. I'm thrilled that the timing will work out for our purchase. I really appreciate the level of customer service I've received from Sokolin, specifically from you and Chris. I look forward to having you help us with our future wine needs."
- Jonathan
"You guys are great!"
- William
"Unbelievable customer service! Who calls you to schedule a delivery after placing order online? I was in shock when I received a call from Kara, and the wine was shipped on the same day. These guys are professionals, highly recommended!!"
- John
"Chris at Sokolin has been a pleasure to work with. He's always extremely responsive and knowledgeable whenever I have a question. The level of service is unparalleled. I look forward to continuing to be a loyal patron."
- Evan
"Chris makes wine buying a comfortable and enjoyable experience. He thoroughly responds to any questions you may have and his recommendations are spot on. I have the utmost confidence in ordering from Sokolin, no matter the age or price of the wine. Truly one of the best in the country for selection, provenance, and customer service."
- Sam
"Wine is great, and the purchasing and delivering process was top notch. Much appreciated. I'll be sure to circle back for future orders."
- Brad
"Thank you very much for your superb assistance and help, Sherri. Looking forward to buying from you and Sokolin again very soon."
- Rafael
"The whole team has been a pleasure to work with."
- Brittany
"What excellent service. I'm so happy to become acquainted with your business."
- Patricia
"Thanks Kara! I am quite impressed with the level of service!"
- Jason
"Chris Kiegiel has been my wine broker since 2012. He quickly learned the types of wines that interested me and has kept me informed when they were being offered at Sokolin. Chris also has a great palate. Over the years, he has introduced me to some great wines that have rounded out my cellar."
- Robert
"First class service, starting with great advice and ending with reliable delivery."
- Basil
"Sokolin's deep selection and remarkable attention to detail, including concierge-level personal attention on every order, has me thinking of Sokolin as the go-to source for high quality wines."
- Leon
"Sherri, I really appreciate your advice! It is great to know that I'm sending the right gifts. If you suggest it, I get compliments! And your costumer service is outstanding!"
- Ellen
"I appreciate the dedication and commitment to service you provide with every order, Sherri. You have a lifelong customer in me."
- Cory
"Sam, I would like to thank you for your customer service. It is a pleasure to see a company interested in its customers. I will continue to look at your selection and hope to purchase again."
- Ralph
"Always a pleasure doing business with Sokolin, even if only one bottle at a time."
- Bernie
"Aaron - thanks for the great pick. We always so appreciate your help!"
- Kerry
"Thank you so much, Sherri, for your expert advice and guidance - really appreciate your customer service!!"
- Betty
"I have had the pleasure of working with Sokolin and Chris for several years now utilizing their considerable expertise to build a cellar of classic first growth Bordeaux, hard to find Brunello, and cult California Cabernet. Their guidance and service have both been impeccable."
- Don
"I have made purchases from many fine wine merchants throughout the country. Sokolin and Chris Kiegiel continue to go above and beyond my expectations to make sure I am completely satisfied with every purchase! They stand out by providing personalized service and prompt replies. Every order and shipping confirmation is handled seamlessly. Their selection is amazing! Small production, special wines, from regions and producers who express the true sense of terroir . I would highly recommend taking the time to uncover these gems or reach out to Chris for suggestions! !"
- Jordan
"Thanks for your input Daron. I appreciate your help!"
- Ken
"Daron, thank you for your voice mail message and your email. This is my first time ordering from Sokolin. I appreciate the personalized follow-up."
- Chris
"Thanks, Sherri! Please pass along to the Sokolin team that I'm a fan of the personal attention that you give to my small orders!"
- Leon
"I order more from Sokolin because of the level of service you provide, Kara."
- Craig
"I thoroughly enjoy buying my wine from Chris. He is both very professional and personable. He is also extremely knowledgeable about wine, does an incredible job of finding super deals on highly sought after wines and then follows through on what he says he will do. Finally, after my order has been processed, he continues to provide outstanding customer service. In short he is the best!"
- John
"Daron, Everything worked out great with the wine selections for my aunt and uncle. Thanks for helping them out and expediting my order as usual."
- Chris
"Thanks again, Sherri, for your great service. What a pleasure it is working with people that truly care about you as a customer."
- Dave
"When I first discovered Sokolin I was thrilled to find a wine delivery company, especially one that carries such a wide variety and many of our favorites! The best part of the Sokolin experience is the customer service I receive from Kara. Her follow up with each and every order has been so helpful. I will be using Sokolin every year."
- Liz
"Thanks, Sherri. Appreciate your fantastic, uber competent attention."
- Molly
"You're the man, Daron...much obliged for your good help... I appreciate the quickness of your response... thanks again."
- Evan
"Kara, the wine arrived mid morning yesterday much to our delight and we enjoyed it yesterday evening at our little get together. I wanted to tell you how much I appreciated my shopping experience with you from start to finish. You are obviously very knowledgeable about the wines and you offer a very thorough service with your attention to detail. I will highly recommend your service to anyone that I know. Keep up the good work!"
- Jess
"Sherri, thank you for your knowledgeable, personable, prompt, and excellent service."
- Perry
"Thanks Sherri, It was a great experience and the wine was awesome."
- Pamela
"I called Sokolin Fine Wine Merchants for the first time this past week. I was extremely happy with the great service and friendly smile I was provided by Kara DeSantis. She made my shopping experience as pleasant as it could get. The prices are competitively priced too. I will be contacting Kara for my next order."
- Douglas
"Sherri, thank you so much for all your help with this. We will certainly be returning to do business with you. You are an absolute gem to work with. We appreciate you and I'll spread the word about your service."
- Mwape
"Sherri, I appreciate how much you stay on top of individual customer issues. It's a great service worth paying for when you can talk to a person that responds!"
- Eric
"You're the best - I will continue to recommend you to friends - you have been a joy to deal with."
- Adam
"Thanks again Daron for your ongoing attention to my orders."
- Chris
"Thanks again, Sherri, for all your efforts! As always, the service is beyond superb."
- Marc
"Sherri, thank you so much for your outstanding customer service! You give me such confidence in making choices with your guidance."
- Ellen
"Always great working with you!"
- Paul
"Sherri, over the past two years you have made our corporate gift giving process seamless and your advice in choosing the right wines was well appreciated by our clients and partners. Kudos."
- Leah
"Daron, thanks again for helping get this gift out on time and for once again securing my image among family and friends as a wine connoisseur. Couldn't do it, nor would I try without Sokolin and it's team of genuine experts."
- Bernie
"I want to thank your organization for getting my wine to me. The two young men that delivered the wine were very helpful and accommodating. This is just one of the reasons I buy from Sokolin – service."
- Manuel
"Thank you, Sherri. You have been a charm to work with!"
- Shelli
"You were right. The 2007 Waterstone was outstanding and played to rave reviews."
- Burton
"Thanks for showing me the offer! Very cool value and change of pace. LOVED it!"
- Paolo
"Thank you, Daron. You are the best!"
- Ted
"I've used Sokolin several times now to deliver gifts for special occasions and each time the service has been perfect and wines, spectacular!"
- Katy
"I love Sokolin. In stock product. Vast selection. Fast service. Professional assistance. And the online store is fantastic with excellent filters, allowing you to very quickly drill down to specifics. Best experience I've found in stocking and growing my cellar. My go-to online store."
- Jared
"You guys are on the ball! I appreciate it."
- Christian
"I am a Level 1 Sommelier and buy quite a bit of wine, in retail and online. I accidentally found the Sokolin website through Google and was delighted not only to find the Peter Michael, but was blown away by the wonderful, attentive customer service I received through the online chat and the follow up phone call with Sherri. I am a fan and can't say enough good things about Sokolin!"
- Linda
"Sherri, I'm happy to have found an exceptional wine shop and met a person exceptionally kind and helpful like you!"
- Hiro
"It's fine service that you provide and I appreciate it."
- Eric
"Sokolin was the obvious choice when helping a friend set up a new cellar. The range and quality of wines is unmatched. Sherri was very knowledgeable, responsive and made the whole process very easy."
- Stephen
"In my quest for a special bottle of Champagne (Krug 95), Sokolin came through with the best price and got it to me in time for a special occasion. Sherri was terrific and called me immediately to offer me a lower price option for shipping!"
- Maureen
"Daron - thanks so much! Appreciate the great customer service."
- Matt
"Your company has just become my favorite new wine store! I love when companies totally get 'customer service', as yours seems to do."
- Abby
"It was a pleasure to talk with you as well, Sherri. I am so glad you called. I will definitely become a repeat customer. Thanks again! "
- Jenn
"Sokolin gets the finest wine, provides the finest service, they make all the difference for me!"
- Anthony
"Daron, thank you for your always excellent service and advice."
- Joe
"Sherri - Thank you - this is amazing customer service!"
- Kellie
"The order arrived safe, sound and fast…Thank you for your outstanding friendly and professional service… I know when I get good service and I think more people should say how much they appreciate it. It seems these days people are quick to complain and forget to show gratitude! I will certainly be ordering from you again…"
- Susan
"Sherri, you people are the best----You even delivered the wine in the middle of a blizzard. Thank You."
- Brandon
"Sherri, your assistance was much appreciated & friendly customer service was well received. It was an absolute pleasure dealing with you, no hassles or complaints whatsoever. Will definitely do business again with Sokolin."
- Melissa
"I received the wine that I ordered in perfect condition. It was the featured wine at our dinner table for a family gathering during the recent holiday season. It was wonderful!"
- Matt
"Thank you for your excellent service! I will certainly keep you in mind for future purchases."
- Cathy
"I had a great experience buying wines at Sokolin. The staff was very efficient and helped me in the hard task of choosing wines among the rich variety they provide. Certainly, I will come back soon and look forward to receiving new recommendations."
- Bruno
"The wine arrived as promised and made the perfect Christmas gift for my Dad -- he was thrilled to receive it!"
- Katherine
"I appreciate your attentiveness and professionalism. I contacted a number of known wine merchants about the sale, and you stood out among the group."
- Matt
(A Client Who Recently Sold His Collection to Sokolin)
"It is very rare in life that you come across a company who is so dedicated to their customer service, in Sokolin I am delighted to say that I found such a retailer. Ordering wine from the UK to family in America was turning into a logistical nightmare however, from the minute Sherri got on the case I knew that my troubles were over. The service that I received was first class and the level of communication and reassurance surpasses anything that I have ever experienced. I thoroughly recommend Sokolin."
- Julian
"Fabulous! You guys are the best! Thanks!"
- David
"Daron, just a quick word to thank you for your help in making the delivery happen on due time with wine in perfect conditions. The party was just awesome and my guests enjoyed the variety of wines."
– Samy
"Good prices, great customer service and very fast shipping and delivery! I highly recommend Sokolin for your wine needs."
– Fred
"George, thank you for your excellent service and selections. The Chateauneuf was spectacular."
– Stephen
"Fabulous, fabulous, fabulous! Great wine selections for the wedding, Sherri, especially the Cava for the toast. Thanks again – it is so appreciated!"
– Sarah
"Thank you very much for the follow up! Great customer service!"
– Melissa
"Very impressive. I love the champagne and the job you did."
– Jeff
"It's always a pleasure to deal with Sokolin. Fronted by people like Kelsey, the service is great -- whether you are taking advantage of one of their many offers or having them chase down something you are specifically looking for. I've been buying from them for years and plan to be doing so for many more!"
– Bob
"I recently began buying better wines for current consumption and for the cellar. Sokolin has been a great resource with access to many high quality wines, some hard to find, both older vintages and recent releases. I find their service and advice excellent and I always review their offerings carefully. George Stagani, with whom I regularly correspond has been a solid resource."
– Jon
"You have been so helpful, Kelsey, and super polite and knowledgeable. This transaction was an absolute pleasure because of you. Also because of your help, I will buy from you again and recommend your services to others."
– Sarah
"You guys do great work…always a pleasure to turn others on to your offerings."
– Tom
"Denise, I just wanted to take a moment and compliment you and your company for the wonderful job you all do. I have been buying wine from Sokolin for many years now and must say that you are my go to company for mail order wine. Your solicitations are extremely honest and straight forward and the combined knowledge of your company personnel is impressive. Keep up the good work and keep the wine flowing!"
– Marc
"I first started buying wine from them when they were still in Manhattan probably 20 years ago. They are one of the best and most wine reputable brokers. I have been working with Chris for several years now and … he has a very strong knowledge of wine and I believe is a certified sommelier. One of the things I like best is that he knows what I like and in what price range I like to look. So that if they have something coming up which he knows I will like, he calls and lets me know. I have found their prices to be at or sometimes better than those even at discounters. I would highly recommend talking with Chris…"
– John
"The ordering and delivery were perfect. My kudos. Wines arrived the promised day in perfect condition. Both were excellent."
– Julio
"Thank you…as always, you are the best."
– Susan
"Thanks, Sherri, for being so prompt…we're looking forward to some pleasurable drinking ahead. It was indeed a pleasure talking with you today; it is always nice to talk with a courteous, friendly and knowledgeable person. We look forward to a continuing relationship with you and the Sokolin firm."
– Roger
"Daron Watson, you are the best wine futures dealer in the country!!!"
– Roger
"Thanks again for your emails and service, Sherri. I put a lot of stock in customer service and you have thoroughly impressed me, which doesn't happen too often. I have bragged about your amazing service to several people already."
– Marc
"Oenophiles are well serviced by George Stagani and Sokolin. No matter your taste in wine, no matter your budget, George listens and takes care of your wants and needs at all times. This is what customer service should be all about. Thank you George-you got me with your first email!"
– Ilario
"George- You are the best…thanks!!"
– Steven
"I am a consumer who enjoys the diverse selection and price range of wines offered by Sokolin…our exposure to the breadth of selection of fine wines from foreign producers is somewhat limited. Sokolin opens up a new venue to acquire these wines. Service and responsiveness is A+. Their representatives, I work with George Stagani, are knowledgeable and most important, candid when asked about any given wine. I recommend folks consider Sokolin as a source for fine wines."
– Paul
"George, I love the emails you send and your shipping and customer service is excellent."
– Kyle
"You guys have excellent service!!!"
– Christine
"George, you are wonderful! Thanks to you, we celebrated our 30th anniversary with wine from the year we were married. If the order had arrived after our anniversary, it would not have been the same. Your kindness was greatly appreciated. Looking forward to many more wonderful years of marriage and Sokolin wine!"
– Karen
"Thanks so much! You all are great!"
– Mary-Frances
"Our experience with Sokolin over the last 9 years has been nothing short of exceptional across the board. My husband always appreciates Daron's emails with wines available specific to our "wish list". The wines always arrive in perfect condition, and timely. On the flip side, we have also sold many wines to Sokolin. Josh has always provided accurate, professional, and seamless transactions. He has made each conversation feel as though it was the highest priority. The communication and customer service over the years has made our experience enjoyable each time. My husband and I are grateful customers, and look forward to always turning to Sokolin for the best wine solutions. It's a great team of people who care. Thank you very much; it is always a pleasure doing business with you."
– Nichole
"George - Thank you so much for the outstanding customer service!!! I will use you again! You have won me over!!"
– Celyna
"The wines were great! I liked all of them and our guests were very pleased. Thank you again for all your help and thank you for the book."
– Mayra
"Thank you very much and it has been a pleasure doing business with you. I sincerely appreciate your professionalism and assistance throughout the process. Again, my thanks to you and your staff."
– Shirley
(A Client Who Recently Sold Her Collection to Sokolin)
"I do love how you guys find good values. I rarely have the time to do a lot of research and I don't drink a lot of wine. But when I do, I want a good one."
– Paul
"The level of expertise and professionalism of the consultants is remarkable. In addition, you will find the competence of the shipping staff to be outstanding. And as for the wine selection.... it is exceptional; both in terms of breath and quality. If you want to purchase exquisite wine, Sokolin is the best partner you could hope for."
– Louis
"My wife and I have been both a casual consumer of wine and casual user of Sokolin's website for many years. At my home, we tend to drink a few bottles of wine a week on average. We focus on finding new wines we can enjoy and that can be purchased easily and at a good value. I tend to order a case at a time, half to drink now and half to cellar. Typically half of each case is either new wines to sample, or reorders that we previously drank and enjoyed. This is made so much easier by the personal attention provided by Wine Consultant, Sherri Sulkowski. Sherri breathes life into the website and the catalogues by graciously contributing her ever-growing knowledge of Sokolin's extensive inventory. Through our many conversations Sherri knows what types of wine I have already purchased and enjoy, what I may be considering, and most importantly for me, the cost range within which to suggest something new for me to order. As someone who has a deeper interest wine knowledge than I do pockets to buy it, I am extremely thankful to have a personal liaison between the bottled liquid sanctuary that Sokolin Wine has acquired with me in mind, and my endless desire to acquire it, albeit slowly, from them."
- Shaun
"Everything was perfect. I will definitely order from you all again. Thank you!"
– Jessica
"Denise, I want to personally thank you for all the help that you give me AND my family when it comes to our wine purchasing. You have made it so easy not only to buy the wines we love but your encyclopedic knowledge of all the wines you sell AND your amazing ability to listen and understand our tastes have opened us up to wines we have never experienced before. You are truly an asset to Sokolin and wine lovers everywhere!"
– Alex
"My boss loved the wine – thanks. You're my hero."
– Barbara
"I received excellent service and you were a big help to me."
– Frances
"I have been storing wines at Sokolin for a couple of years now and have been very satisfied with the service. Matt always responds immediately to my requests by email or telephone and has never failed to come through on a commitment to make a delivery on a date certain."
– Arthur
"You and your team are always responsive, and I recommend IGW to my wine buddies. Keep up the good work!"
– Patrick
"Great job with your customer service, George. It is most appreciated. Thanks again for all your help with these orders and the '09 Bordeaux!"
– Kerry
"Daron- YOU are BRILLIANT!!!!!!!!!!!!!! VERY IMPRESSIVE and very much appreciated."
– Deborah
"It was our pleasure doing business with you and your company. You and your team made this whole process easy and painless."
– Ronald (A Client Who Recently Sold His Collection to Sokolin)
"Sokolin has a great selection of wines from all over the world. They have very knowledgeable staff, good delivery options and their website is one of the best I know. But what really distinguishes Sokolin is their customized service: George Stagani has been a great help to me in finding the wines I like at a very good price."
– Fred
"I have been extremely pleased with the service and the products from Sokolin, especially from Jeff Gordley. I started working with Jeff when buying 2009 Bordeaux futures in 2010. Every purchase has been delivered on time, in perfect condition and at great prices. Thanks Sokolin for helping make my cellar what it is today!"
– Bob
"I have been storing large quantities of wine at Liquid Asset Storage for several years and have been extremely satisfied with their service and reliability. In particular, Matt is very customer-focused and willing to go out of his way to provide terrific, prompt service. He is a true pleasure to deal with and makes the storage and retrieval of wines simple and painless. Kudos to Matt for doing a great job."
– Bruce
"If you're looking for a merchant that has a vast selection of wines, and a wine expert to help guide you with your selections, then Sokolin is the place! I've developed an excellent relationship with my sales broker Nick Naddeo, and he's always emailing me the newest arrivals & cellars before they make it to the email blast. He always responds in a timely fashion, and is very helpful with answering any wine questions that I may have. Jill in shipping is also exceptional at handling all the details of my deliveries, and making sure my wines arrive on time and in great condition. I've had nothing but a great experience with Sokolin."
– Dave
"Sokolin Wines provides me a level of service that is unmatched in the industry. Christopher has a wealth of knowledge that astounds me. He always has the inside line on any wine that he has offered me. He has great patience in answering all my questions and following up with every detail. I would recommend them to anyone looking to develop a collection or just looking for a gift."
– Tom
"I have been purchasing wines from Sokolin for more than 5 years and always have received superb service! Thank you George for your patience and time!"
– Alfredo
"Sokolin and George Stagani do a great job of sending me sales information on the wines they/he know I like. I get very good updates on private cellar sales as well as other specials Sokolin is running specifically on the wines of interest to me."
– Mark
"I have been a satisfied Sokolin customer for many years and have always been very impressed with the time Daron has taken to understand the wines I enjoy drinking and to target his offers accordingly, rather than simply clogging up my inbox with wines I don't like. Sokolin's access to hard-to-find wines in larger formats is second to none in my experience. The overall Sokolin experience has been very professional - wines have always in great condition and arriving in a timely manner."
– Duncan
"Knowing that my phone calls, e-mails, text messages would be returned to me directly by Matt made dealing with Liquid Assets an enjoyable experience.....which is still ongoing. Entering into purchasing a large collection, something I had never done before, was a bit anxious for me. Turning a hobby into a business venture at my age was a nerve racking experience. However knowing my requests would be honored with the highest form of professionalism, as well as with such a friendly, honest, trustworthy manner made my life much easier."
– David
"I have been working with Sokolin for several years now and could not be happier. I am a wine drinker, not a wine collector. True, I buy wines and save them for later years but with the intention of drinking them, not keeping them in a museum. What I like most about working with Chris is that I can trust and rely on his opinion. Over several years, we have talked about what I like and how palates evolve and change over time. He has been able to guide me to some fantastic wines at very reasonable prices. Anyone can buy a great wine at a high price. For me the trick is to find that same treasure at a reasonable price and that is what they do so well."
– John
"My experience with Sokolin has been impeccable, from my first contact when looking for a cult Pouilly Fume to my last rare Brunello. The service from my knowledgeable wine concierge, George Stagani, is prompt, attentive and friendly. For me wine is a pastime that I expect to be fun and pleasant, Sokolin responds to all my expectations."
- Alfonso
"I am not a collector and I may have more wine than I need, but I always look forward to Sokolin's e-mails because of the bargains they offer and the attention they provide- particularly from George Stagani, who will call me immediately if there is a question about quantity or delivery. I also appreciate the ratings information, which is preferable to walking into a store and seeing a sign that says one of their employees likes a certain wine. Sokolin has been a godsend for a person who does not live in a metropolitan area."
– Brandt
"I have been a client of Liquid Asset Storage for many years. I can honestly say that it is one of the best consumer experiences that I have. The ability to interact with Matt via email or phone is priceless and I can't conceive of my storage situation without Matt there to both guide me and assist me in my regular needs. He is the epitome of what one should expect in a client relationship-smart, courteous, timely and above all nice. Liquid Asset Storage should be proud to have a world class employee like Matt."
– Harvey
"I've been working with Sokolin for over four years and the experience has been tremendous. In addition to providing an amazing selection, the prices are right, and the level of expertise is unmatched. The service team is great and my personal advisor, Jeff Gordley, goes out of his way to find me the types of wine I like. David Smydo has gotten on the phone with me himself when I'm looking for the right bottle of wine as a gift. I don't buy wine anywhere else."
– Joseph
"Sokolin is the best. I'm not a wine connoisseur so when I ask for their recommendations, they are right on target, no matter the price point. They have been my wine merchant for over 20 years, and I have never been disappointed."
– Joel
"I do also want to say that my experience with Sokolin has been exceptional. Thank you very much for such great service and I do hope we continue to work together on future business."
– Martin
(A Client Who Recently Sold His Collection to Sokolin)
"Sokolin has been a great company for me to turn to for both my own cellar as well as for gifts for clients and friends. Whether for cases of easy drinking summer whites or hard to find 100 year old Madeira, David Geaney and the Sokolin team have been exceptionally resourceful and knowledgeable. Wine aficionados of all levels should take advantage of their expertise and professional service."
– Kyle
"I'm so impressed with the level of service at Sokolin. I look forward to utilizing you for future rare wine purchases."
– Susan
"The people at Liquid Asset Storage are wonderful to deal with and I can't imagine storing my wine anywhere else. Matt Nowakowski and his team have done a great job keeping track of various deliveries and always keep me up to date on what's been received. And it's never a hassle to get a few bottles sent to my apartment or a case picked up, even on a moment's notice. The convenience is great, but more than that, Sokolin runs a very professional organization, which is so important when it comes to trusting your wine collection is being taken care of."
– Paul
"The service that Matt has provided at Liquid Asset Storage has been second-to-none. The consummate professional who is always accessible, Matt is always one step ahead of taking care and managing your collection. When buying and storing fine wine, two things matter: (1) provenance and the conditions in which your collection is stored and treated; (2) customer service. Matt has helped deliver both with his services at LAS. I had an incoming shipment of wine that was to be added to my collection, and Matt adroitly alerted me that the sender had sent a soiled product – within minutes Matt had pictures sent to me. Matt was looking out for me and managing my collection. Now I only deal with Sokolin and Liquid Asset Storage."
– Michael
"I have purchased wines from Sokolin for many years. During this time, I have developed a close working relationship with Jeff Gordley. No matter what I have asked him to find, he has always been able to get what I have been looking for. It never ceases to amaze me that he is able to supply such rarities as Deus ex Machina, 2007 in case quantities! As you may remember, Robert Parker listed this wine as the one to drink if it was his last bottle to drink. If one is choosing one dealer to work with it is Sokolin and if one does, I don't think you will need any other dealer."
– Sal
"Moving from wine drinker to novice wine investor can be an intimidating undertaking. George Stagani and the Sokolin team with their no-pressure, informative and educational approach have made this experience a pleasure. When you also consider Sokolin's buying power, I feel that I have found a valuable partner for my personal and investment wine purchases."
– Ralph
"I have found Sokolin to be one of the most efficient and knowledgeable companies that I do business with in any arena period, let alone as a counterpart for wine futures and everyday wine purchases. Jeff Gordley in particular makes the wine buying experience one filled with deep knowledge of wine and its collectability as well as fantastic opinions on wines drinking well currently. The Sokolin experience is second to none!"
– Brent
"My scope of interest is extremely narrow.....Burgundy ..... This affords me the opportunity to know these wines extremely well. As a result I can speak with authority. Without question, Sokolin is the best source. Most of all, I have great confidence in the provenance of their selections. Equally important is the excellent range and value that they offer. Finally, while not a significant buyer in other areas....I feel confident that an exceptional job is done as well elsewhere. Over the years I have accumulated a great collection......thanks to Sokolin."
– Joe
"It was I who noticed the first catalogue from Sokolin which got my immediate attention. It was so classy and elegant. The catalog is arranged in a stylishly simple form with enough written explanation concerning a particular wine to be informative and interesting. We both pay attention to your Robert Parker and Wine Spectator ratings as well as wines that read "a favorite of the Sokolin Family or a wine the Sokolin Family had for Thanksgiving." There have been many wines we have received from you that we would have never thought of purchasing on our own. Many have become great favorites. Certainly Washington, DC has great wine stores and we are totally mobile people. Nevertheless, we keep coming back to Sokolin which has become our premiere source for excellent wine. Your staff is amazing…We have never had a problem with service… I prefer catalogues rather than going to the Internet. I enjoy sitting down at the table and perusing a catalog with a cup of tea (or perhaps a glass of wine) rather than sitting at a computer…Sokolin has brought so much pleasure to our knowledge and enjoyment of wine. We look forward to many more years of excellent Sokolin wines…"
– Sue
"Sokolin offers an amazing experience with wine purchasing. Their quality selection is second to none (from back vintages to Bordeaux future offerings) and their customer service is exceptional. Sokolin's wine experts have been a valuable asset in my wine purchasing and really set them apart from other wine retailers. They are extremely knowledgeable and tailor their advice to your specific needs and tastes. Their advice and recommendations are very important in my wine purchasing. Whether I'm buying wine for enjoyment, entertaining or investment, Sokolin's wine experts have been extremely helpful in that process. It's like having a personal sommelier!"
– Jeff
"In the event that any future customer may wish a referral I hope you will feel free to cite me as a satisfied customer. Your conduct and that of your colleagues have been exemplary throughout all phases of negotiation and transaction. Please accept my personal thanks for your involvement in particular."
– Stephen
(A Client Who Recently Sold His Collection to Sokolin)
"When one is buying fine wine, three things matter: (1) provenance and quality of the product; (2) access to the best producers; (3) customer service. After working with other national and international wine retailers, I now only deal with Sokolin. Every bottle of wine that I have ordered has been delivered in pristine condition, with attention to the smallest detail - whether it be original release paper wrapping or original wooden cases. Jonathan Muscatello is always available around the clock to help match customers with the best wine available at the most competitive price. Jonathan also possesses a terrific palate, and has introduced some of the most exciting wines I have ever tried. Sokolin and Jonathan are the one-stop for serious wine buyers."
– Michael
"Sokolin has made searching and shopping for those hard to find and highly sought after wines very easy. The timely email alerts, great prices and very responsive and friendly sales team -- Sokolin is hard to beat!"
– Troy
"Sokolin has consistently provided me with exceptional service, terrific pro-active suggestions and offers that are incredibly well-tailored to my preferred tastes in wine, rapid and responsive answers to my specific requests, great access to the wine auction market, and very competitive prices. I wouldn't possibly consider working with any other dealer."
– Christopher
"My wine arrived today - as always, the service from your staff, and follow thru have been top notch. Sokolin has never let me down, the selection is always varied and often has things that I cannot find in other venues. Keep up the good work!"
– Glenn
"Sokolin has introduced me to the world of wine, both as a consumer and as an investor. Their guidance and attention to detail is extraordinary. I recommend their expertise across the board for all wines at all prices."
– Joe
"I've recommended Sokolin to numerous friends across the US. Price is just the starting point; selection and service (including shipping price and flexibility) make the difference."
– David
"I like getting Sokolin emails!! I find them informative and they put me in touch with some wines not locally available to me."
– John
"I really enjoy doing business with a company as reputable as yours. You always do a great job for me."
– Bill
"The team at Sokolin is the best. Their wine knowledge & customer service is exceptional. I have recommended you to several friends."
– Tom
"You are my sole source for any wine worth cellaring!!"
– David
"Just wanted to thank you again for all your help and wine recommendation. Several of our clients (who know wine) have complimented our gift purchase. I truly appreciate you not being a "sales agent", just trying to make a sale and the fact you made such great efforts to help me choose a nice bottle!"
– Yvonne
"Sokolin is the only place I order from at this point. They have everything I want, and can get anything I request, usually within days. After Jonathan's retraining of my palate, I find myself unable to drink wine at anyone else's house, unless they are an avid collector. He's shown me the real world of wine."
– Paolo
"Thanks again for your great attention to detail and follow up. While I understand it is what you do, there are many service related people who don't take the time to make notes, follow up etc! It makes a huge difference to me and I thank you for the great service."
– Steve
"Thank you for such superior customer service."
– Tim
"Thank you, Daron, you guys always do a great job."
– Dave
"Thanks for great customer service. You guys are in a class by yourselves."
– Mark