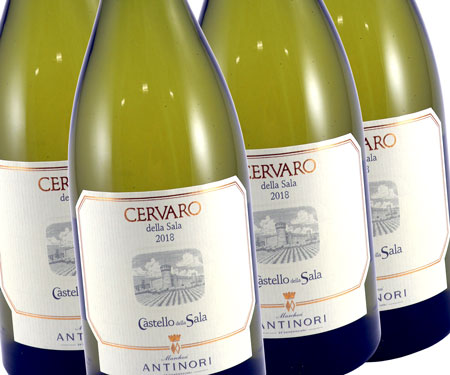 "Once in a while a white wine comes out of Italy that beats even the top white Burgundies ... and this is it!" – Dave Sokolin
We're excited to bring you a 96 point, white wine from the Antinori family, 2018 Antinori Cervaro della Sala. The Antinori family, esteemed and highly regarded, has been making wine since the late 1300s, spanning 26 generations. They have estates in Tuscany and Umbria, as well as other parts of Italy and abroad. Castello della Sala, located in Umbria, is one of the estates owned by the Antinori family, and the name Cervaro comes from the family who owned Castello della Sala during the 14th century. 1985 was the first vintage of Cervaro produced. The concept behind this wine was to make a white wine that had the ability to age over time.
Cervaro della Sala is made of Chardonnay and a splash of Grechetto and sets the benchmark for Italian white wine. It's one of our favorite white wines, and it's certainly adored by our customers. At only $59.99 bottle, this 96 point "Batard Montrachet" from Italy compares to and is even more refreshing than $1,000 bottles! This '18 vintage has a drinking window of 2020 – 2035.
"Marchesi Antinori's estate in Umbria is a revolutionary force for the region. The amazingly successful Cervaro della Sala has arguably done more to raise the image of Italian white wine than any other single bottle..." - eRobertParker.com
"2018 Cervaro della Sala is a classic edition - it's about as classic as I have ever tasted..." - Robert Parker Wine Advocate

"The Batard-Montrachet of Italy..." - James Suckling
This wine is perfect to serve with chicken, turkey, ham or shrimp scampi.
Cheers!