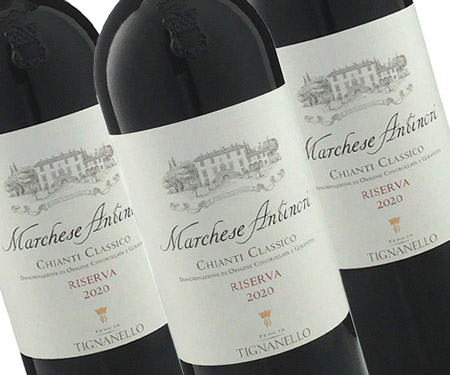 Chianti is one of the most popular Italian wines - it's delicious, pairs well with many foods and is priced low. If you enjoy Chianti, 2020 Marchese Antinori Chianti Classico Riserva Tignanello is one you don't want to miss out on! This one seems like a level up from many other Chiantis as it comes from Antinori. Antinori is one of the most famous and well-known winemaking families whose history spans over six centuries, dating back to 1385. Their story has been passed down through 26 generations!
While they are known for their Super Tuscans Tignanello, Solaia and Guado Al Tasso, they also make this delicious, 95 point Chianti Classico Riserva that we love! Made from vines of the Antinori Tignanello estate, this Chianti Classico Riserva is a deal at only $44.99 / bottle! Since 2011, this wine has been produced with grapes exclusively from the Tignanello vineyard. It's made of Sangiovese, Cabernet Sauvignon and Merlot and "is like a Brunello in its structure with excellent length." – JS
"A sleek, elegant red, with fine purity to the aromas of cherry, black currant, iron, olive and tobacco. Shows new oak on the palate, lending both spiciness and structure offset by ample fruit and texture. Ends with a balanced, complex finish…" - Wine Spectator
Just look at the chart below to see what a great buy this is! Antinori's 2019 Tignanello scored 96 points and is priced at $229 / bottle, while its 2020 Guado Al Tasso scored 95 points and is priced at $189 / bottle. Owning a case of this 95 point Chianti Classico is a smart money play while allowing the other two wines to age.
Very limited quantities remain. Order your case today!
Cheers!