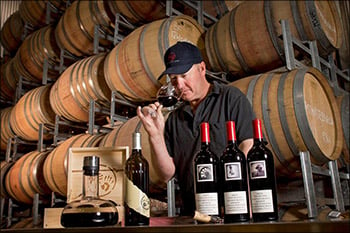 Daron Watson, one of our private wine consultants, catches up with Michael Twelftree of Two Hands Winery in Australia. As one of the finest producers in not just Australia, but in the world, they have taken a spot on Wine Spectator's list of the Top 100 Wines ten years in a row, and we are amazed at their consistent quality.

Q: So MT, what first brought you into the world of wine?

A: I was 23 and a friend invited me to go with him to a wine shop to buy a few cases of wine. There was a (free) tasting going on and this wonderful world unfolded right in front of my eyes.

Q: When did you first meet Richard Mintz and when did you decide it was time to start your own winery?

A: I met Richard at the time we were both finishing up at school and we were about 16 and we were hanging out with the same group of young ladies.

Q: What does the name Two Hands stand for?

A: Two of us, Richard and I and the fact that the wines are handmade, which is very important in an industry that has become so industrialized.

Q: Your portfolio is nicely divided into a number of 'Series': Flagship, Single Vineyard, Garden, Picture and Showroom. Can you please describe the idea behind each 'Series'?

A: The ain of the 'Series' is to give definition and to break up our price points. Most wineries have one package for all their wines and they have little or no points of definition within their range. Look at Bordeaux, all packaged in a 30c bottle yet can command a super premium price. BMW [has] a range across price points and I think you need to work with the consumer and to be able to communicate your message as easily and seamlessly as possible.

Q: Did you know from the start this is how you wanted to lay out the portfolio?

A: No, we stumbled along and it evolved over the past 12 years. We knew that we wanted to bottle regionally based Australian Shiraz and to attribute the wines to our wives and children (Garden Series), and we knew that we wanted the Picture Series to be 'fun' as we both saw the wine industry, as a whole, to be too egalitarian and very boring in the eyes on the next generation.

Q: The four Flagship wines seem to be primarily from Barossa. Does that imply Barossa creates the strongest examples of these varietals?

A: Our Flagships are the best that we can bottle from a given vintage but they do vary. McLaren Vale Shiraz has been increasingly used in our Ares over the past 5 years and our 2011 and 2012 Aphrodite Cabernet Sauvignon has come from McLaren Vale. I taste every barrel (1800+) blind each vintage and the best barrels are the best barrels - they are the ones that will represent the Flagship range.

Q: What are some of the most interesting characteristics you find from the five Single Vineyard wines, say in aroma, flavor or mouthfeel?

A: To me great wine is all about texture, mouthfeel, tannin density and palate presence. I don't ever get caught up with aromas and certain flavor profiles. I believe that wine must evolve and if they are well made, the components will change over time. I think getting too caught up in descriptors is counter productive, as it is impossible to make a three dimensional tasting experience into one dimensional tasting note or comment.

Q: Your website states that the Shiraz for the Garden wines is sourced from what you feel are six of the finest growing regions in Australia. What are some of the defining differences among these six regions?

A: Soil, elevations, climate, average rainfall, diurnal range, clonal material, aspect, irrigation, trellis, pruning, crop load, berry size, ripening curve, skin thickness, leaf size and bunch formation. I see Heathcote and Clare Valley as our more elegant red-fruited examples, Langhorne and McLaren Vale as richer and more the purple fruit spectrum with Barossa Valley and Padthaway as the darker more black fruit spectrum.

Q: Congratulations on making Wine Spectator's Top 100 list 8 years with Bella's Garden, 4 of them in the Top 10. What do you think Bella's offers that consistently allows it to be enjoyed by reviewers and fans alike in nearly every vintage?

A: Hard work and an absolute focus on quality. our motto is 'Quality without Compromise' and I declassify 35% to 40% of my production in average vintages and 5% to 10% in great ones.

I am more proud of the fact that we are the first winery to ever make the Top 100 for 10 years in a row. I believe that is an amazing accomplishment and [speaks] to the consistency of our wine making abilities and style.

Q: The Picture and Showroom 'Series' allows you to work with a number of various varietals. In Australia, which non Rhone or Bordeaux style wine do you enjoy making the most?

A: Riesling - it shows off site and season so vividly.

Q: We're guessing that you must enjoy Pinot Noir and Chardonnay as you are a partner in Mischief and Mayhem of Burgundy. Are there any other regions in the world you'd like to make wine from?

No, I have a new Single Vineyard Grenache project that I am working on under my new Twelftree labels - it's keeping me on my toes and very inspired. We have an amazing resource of 50-year-old to 120-year-old Grenache vines here in Australia on own roots, dry grown and un-trellised across Clare, McLaren Vale and Barossa Valley. I believe it's time somebody bought these great sites and vines to life.

Love it MT. We look forward to enjoying wines from you and the crew for years to come.

Cheers!

For anyone interested in sampling this winery's extraordinary wines, we highly recommend the 2010 Two Hands Shiraz Bella's Garden, Wine Spectator's #3 Wine of the Year in 2012 - 95 points & just $68.99.