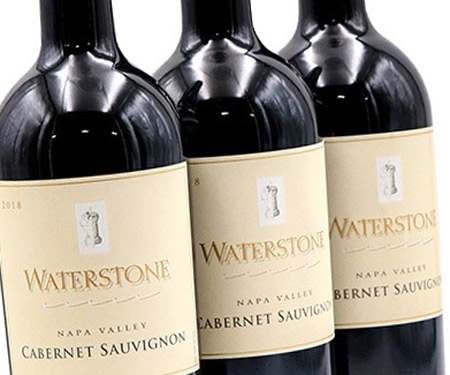 Many of you are already familiar with Waterstone Cabernet Sauvignon. Over the past decade, Waterstone Winery has built a reputation for its top quality Napa Valley Cabernets. Part of what makes Waterstone so special is that its wines taste like Cali-Cult wines without the Cali-Cult prices, impressing wine aficionados as well as those just discovering the world of wine. We were first introduced to this winery two decades ago, and 2001 was the first vintage we sold. Waterstone has been a best-selling wine at Sokolin, year after year.
The 95 point, 2018 vintage of Waterstone is here, and it's the BEST vintage we've tasted since their initial release in 2001! The brilliance and magic of winemaker Laurie Hook (formerly of Beringer and their high scoring luxury offerings) has taken these wines to a whole different stratosphere.
With fruit sourced from the iconic Truchard's vineyard and also vineyard sites from the hillsides of the Mayacamas range displays the top-notch pedigree. A stunning nose showcases multiple layers of dark fruit, especially black cherries, warm baking spices and even a hint of chocolate. It also has that unmistakable touch of Napa dust. On the palate, it's fruity and bold with powerful plush tannins, but also flaunts an elegant structure that demonstrates the overall extraordinary quality of this Cabernet.
At only $34.95 / bottle, this is a phenomenal, under-priced Napa Cab that offers amazing bang for the buck!
Drinks great now and will age for 2 decades. In stock and ready to ship.
If you're a fan of Waterstone, act quickly and order your case today. This is your chance to experience maybe the best bang for the buck in Napa!
Cheers!