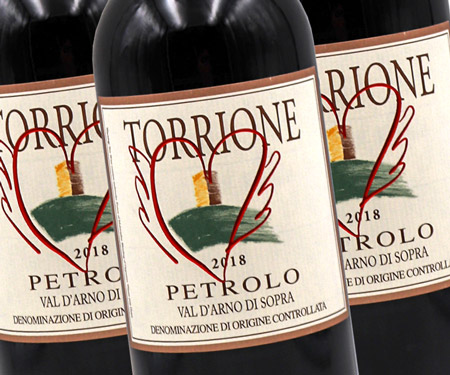 We're excited to bring you this 95 point Super Tuscan – 2018 Petrolo Il Torrione, a blend of a blend of Sangiovese, Cabernet Sauvignon and Merlot. Petrolo is a top Tuscan wine estate located close to the Chianti Classico region and is best known for its Galatrona.
Antonio Galloni of Vinous Media had this to say about Petrolo's 2018s: "These 2018s may very well be the finest wines I have ever tasted from Luca Sanjust at Petrolo. From top to bottom, the range is so impressive."

That says a lot! Their Galatrona is often described as the Petrus or Le Pin of Tuscany, giving Masseto a run for its money at a fraction of the price.

But to have Petrolo's other wines also get some love is wonderful… especially when it's their little Super Tuscan 'Il Torrione.'

Not only is the 2018 vintage Robert Parker Wine Advocate's Highest Scoring Example of This Wine, it is James Suckling's Greatest Example and lead off wine for his GREAT VALUE SUPER TUSCAN WINES UNDER $30!

This 95 point, organically grown Super Tuscan makes a great house wine this summer or for years to come! It's drinking well now – 2030.
Priced at only $24.99, it delivers beyond its price and will sell out quickly. Order your case today before it's gone!
Cheers!