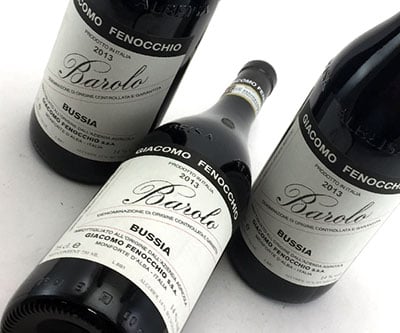 Our expert team searches high and low to bring you the best wines at great prices. If you're a Barolo lover, the 2013 Fenocchio Barolo Bussia is a wine you don't want to miss! With a 97-point score from Wine Enthusiast for only $47.95, it far outperforms its price, and it's a wine that's built to last for the next three decades.
The Fenocchios have been producing wine for five generations in the heart of Bussia since 1864. They are known for creating high quality, traditional style Barolos. Fenocchio was recently rated #2 in a tasting of Barolos by The New York Times, and Wine Enthusiast said "If you're looking for the next star winemaker in Italy, look no further."
The 2013 vintage just arrived, and it's phenomenal! It's the vintage we've been waiting for and is the best in years. Barolo lovers, it's a vintage you should be buying. Wine critic, Antonio Galloni, said "Readers will find a number of thrilling, utterly captivating wines that speak to the pedigree and class that are signatures of the best Barolo vintages… Overall the 2013s are Barolos that speak to finesse above all else."
97-point review from Wine Enthusiast:
"Rose, iris, wild berry and baking spice aromas merge with scents of new leather and a balsamic menthol note on this stunning and classically crafted Barolo. The structured polished palate delivers juicy Marasca cherry, crushed raspberry, pipe tobacco and licorice framed in tightly knit noble tannins and bright acidity. It's going to just keep getting better and better over the next few decades... Drink through 2053." – Wine Enthusiast
Pick up a case today and serve this with lamb, steak, wild game or veal for an incredible tasting experience!