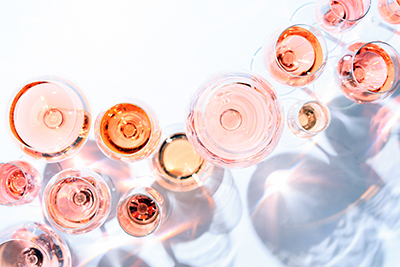 It's THE Rosé time of year! Guests love it, and people want it. With summer quickly approaching, we'd like to share our top recommendations that we love and our customers love. They can be enjoyed at the beach, on a picnic or sipping poolside. Not only are these selections delicious and drinking well now, they are all priced under $22!

2017 Diving Into Hampton Water Rosé is the newest Rosé we've added to our lineup and is one of the "IT" Rosés of the summer. It's actually a collaboration between rock star Bon Jovi, his son and the famous winemaker, Gerard Bertrand. The entire 2017 production sold out very quickly on allocation, and we were lucky enough to receive a small shipment that we don't expect to last long. It's being chased by Rosé lovers and will likely be one of the most-Instagrammed wines this summer. The bottle is gorgeous, featuring a graceful woman diving into a pink colored pool. It's made up of a blend of Grenache, Cinsault and Mourvedre grapes and is priced at only $19.99. Inspired by summers Bon Jovi spent vacationing in the Hamptons with family, his son is said to have come up with the name "Hampton Water."

2017 Whispering Angel Rosé has been a Sokolin best-seller for many years. It has a beautiful, pale pink color with a silky texture that exemplifies Provencal Rosé. Created by Sacha Lichine, son of the famous Alexis Lichine, who spent time working at his family's chateau in Bordeaux. Whispering Angel Rosé is a world-class Rosé that is priced at only $18.95, yet it tastes like it costs twice the price!

2017 Miraval Rosé (Pitt – Jolie – Perrin) has been one of the most popular Rosés for the past few summers. It's always a highly anticipated arrival and is a huge customer favorite. Brad Pitt and Angelina Jolie teamed up with the famous winemaking Perrin family of Chateau Beaucastel, and together created an amazing, sought-after Rosé from one of the most prestigious estates in Provence. It's a pure expression of Provencal Rosé that is priced at just $21.95.

2017 Domaine Ott Rosé Cotes de Provence BY.OTT is a summer must-have! Domaine Ott is one of the most demanded Rosés every year and is the Rosé legend that started it all. BY.OTT hit the market for the first time two summers ago and is the second wine of Domaine Ott, but punches higher than its price tag. You can score the same pedigree as the best Rosé at half the price for only $18.99.

2017 Chateau Sainte Roseline Cru Classe Lampe de Meduse is another summer classic at only $17.99. The 2016 vintage was presented to us last spring, and we immediately knew that we had to add it to our lineup. The bottle shape is unique and provokes thoughts of a genie's lamp or a vase waiting to be filled with a beautiful bouquet. But as soon as the cork is popped, one quickly realizes that the beauty is already inside of the bottle! This Rosé is one of the few in Provence to have achieved the elite 'Cru Classe' status, a mark of supreme quality.

These Rosés are all in stock and ready for you to enjoy this spring and summer. Serve with seafood, shellfish, pasta dishes, lighter salads, grilled chicken, sandwiches or wraps.

Cheers!