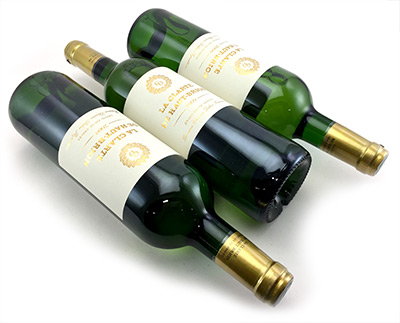 In April of 2015, my colleague and I were busy in Bordeaux tasting the new 2014 vintage. Our week was for the most part like any other ordinary year of En Primeur tasting: travelling from chateau to chateau, sipping, spitting and taking notes. Overall, the wines had been fairly good, but not "vintage of the century" good, and we were in desperate need of a "wow" moment to liven up the trip a bit. Fortunately, that moment came mid-week when we were whisked away to a private dinner at Chateau Haut Brion. On the way to the Chateau, I couldn't stop imagining what the dinner might be like and which wines might be poured. Little did I know that this day would prove to be a completely unexpected learning experience and that my view on what constitutes "the best Bordeaux" would change forever.

When you taste at Chateau Haut Brion or Chateau La Mission Haut Brion, the Dillon family likes to show all of their wines at once. For a busy wine professional, this is absolutely perfect because you only need to stop at one location to try both the Haut Brion and the La Mission Haut Brion. Additionally, the Dillon family also pours the various "second" wines, whites and other side projects. When we stopped at Chateau La Mission Haut Brion in the spring of 2015, we tasted through the flight of both producers' wines, including the wonderful 2014 whites. This was my first encounter with the white wines of both Haut Brion and La Mission Haut Brion, and I was immediately smitten with the golden color, heavenly nose and incredibly long, luxurious finish of the Sauvignon Blanc and Semillon blends. My notes contained way too many exclamation points, and the scores I recorded for both samples had 100-point ranges. At that moment I was sure that I had just tasted two of the greatest white wines ever produced. The utterly mind-blowing thing about all of this is that no one is there for the white wines. The Bordeaux En Primeur tastings are all about evaluating the quality of the reds. Chateau Haut Brion is one of only five First Growth (best of the best) producers in the Bordeaux region and La Mission Haut Brion is the closest thing to an honorary member of that group. To be sitting in Chateau La Mission Haut Brion with two of the greatest red wines in the world sitting in front of me was an incredible experience that was completely overshadowed by their white counterparts. My notes said it all… "Best Ever?"

The day started off with our incredible tasting experience at La Mission Haut Brion, and we were thrilled to be ending the day with a private dinner at Chateau Haut Brion. Upon entering the dining room, we were greeted with three large decanters full of reds. With our dinner, our group would be enjoying 2003 La Mission Haut Brion, 1998 Chateau Haut Brion and also a bottle of 2011 Le Dragon de Quintus which is the second wine of the Dillon Family's property in St. Emilion. At this point, my colleague motioned to the two empty spots on the table, and we both tried to guess what other vintages our hosts might present that evening. To our surprise, a member of the staff soon appeared with two chilled decanters full of Bordeaux Blanc!

After spending my morning talking endlessly about the incredible quality of the Bordeaux Blanc we had tried, we were once again going to get the opportunity to taste the white wines of these two incredible Chateaux. To make things even more interesting, the bottles they chose were both magnums from the highly acclaimed 2009 vintage! All of the wines that evening were incredible, but I had to give my vote for wine of the night to the 2009 Haut Brion Blanc. Never in a million years did I imagine I would attend a dinner at Chateau Haut Brion and walk away thinking that a Bordeaux Blanc was one of the best wines I have ever had in my life. It was an eye opening experience to say the least, and my appreciation for well-made Bordeaux Blanc has only grown since that day. Unfortunately, the annual production of white wine in Bordeaux is miniscule compared to that of the reds. Additionally, the very best whites can be extremely expensive. The 2009 vintage of Haut Brion Blanc for example can trade for more than $1,000 per bottle! The good news is that you don't have to spend a fortune to get a taste of these magnificent whites. Haut Brion and La Mission Haut Brion have teamed up to produce a blend of both of their white "second wines" called "La Clarte de Haut Brion." With a price point under $100, it's an incredible value when you consider the talent and pedigree that goes into each bottle.

We recently received an allocation of 2009 La Clarte de Haut Brion, and it has quickly become an instant classic. Robert Parker's review noted "figs, melon, crushed rock, white flowers and grapefruit" which is just about spot on. It's an excellent food wine that pairs well with light pasta dishes, shellfish and soft cheeses. You will want to serve it chilled, but make sure it's not too cold as the full range of flavors really begin to show as the wine warms in the glass. And if all that doesn't already have your mouth watering, you'll be happy to know that this isn't simply another summer sipper. This is a white that you can not only enjoy year-round, but also for years to come so make sure you grab more than just a couple bottles because this great Bordeaux won't last long!

Cheers!