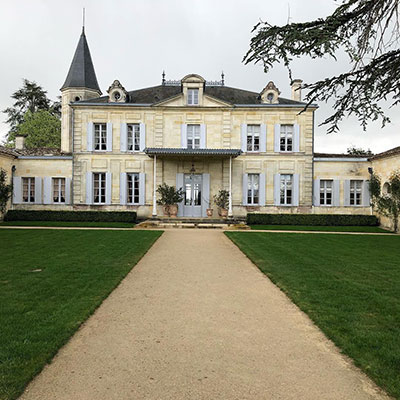 Our team recently traveled to Bordeaux for the 2018 En Primeur campaign and spent days tasting barrel samples at many top chateaux. They tasted over 100 wines on both the Left Bank and Right Bank and reported back with the following information:

Team 1:

2018 was an unusual vintage to say the least. The entire region experienced an unprecedented amount of rainfall through the spring months until mid-July. The rain caused headaches for many producers as they fought diligently to protect their vines from mildew. Several chateaux lost a significant portion of their crop to mildew causing overall production numbers to be historically low. It was a very odd feeling to walk through the barrel rooms of Pontet Canet and Palmer and see the cellars nearly empty.

But after the rains stopped in July, the region experienced very even temperatures and very little rain through the end of the summer, which allowed the remaining vines to grow strong, concentrating the flavors within the grapes. Those chateaux lucky enough to not be too adversely affected by mildew were treated to beautiful crops that produced spectacular wines.

Many people attending the 2018 En Primeur tastings quickly noted the power and concentration displayed by the vintage. The best wines could easily age for 50+ years while many wines will be very approachable over the next 5-10.

One word that I found repeated frequently in my notes was "fresh". So many of the wines had that great fresh, fruity characteristic that perfectly balances the big, tannic structures found in 2018.

With regards to pricing and availability, there will be many producers that will most likely open at higher prices than 2016 simply because of the decreased production. But, I am confident that there will still be a lot of value to be found in 2018. Many of the "2nd" wines produced in 2018 were the best we have ever tasted. Some great examples to look for are La Dame de Montrose, La Chapelle de la Mission Haut Brion, Croix de Beaucaillou, Duhart Milon, and a new label from Chateau Haut Bailly called "Haut Bailly II".

While there may not be as many great wines from top to bottom in 2018 as there were in 2015 and 2016, there will still be plenty of "value wines" worth chasing at release.

As for the "1st Growths," 2018 is going to be a very strong vintage for Lafite, Margaux, and Haut Brion. On the Right Bank, look out for Cheval Blanc, Ausone, Canon and Vieux Chateau Certan.

Team 2:

A very impressive vintage in 2018 with many exceptional wines. The best wines seem to match or even eclipse some of the best recent vintages. The opulence and seductiveness of the 2009 vintage, the structure and tannins of the 2010 vintage and the pure, fresh fruit of the 2016 vintage.

On the left bank, St. Julien, St. Estephe, Pauillac and Margaux excelled with the top producers while on the right bank, Pomerol seemed to really shine along with Ausone and Cheval Blanc in the St. Emilion.

The one major difference between this vintage and the 2016, 2009 and 2010 vintages is that it isn't as consistently great across the entire vintage like those vintages were. While there are fabulous highs, there are also some wines that underperformed. It will be important to be selective when purchasing.

What wine critics are saying:

"At the very peak of quality, the 2018s are mind-blowingly incredible." – Robert Parker Wine Advocate

"I think it could turn out to be an all-time great, similar to 2010, 2009 and 1989 or even such classics as 1982 or 1959." – James Suckling

"Bordeaux has another incredible vintage on their hands with 2018. Following the opulent 2015s and the pure class of the 2016s, the 2018s resemble a hypothetical mix of a sunny, dry year such as 2009 or 2015 mixed with a cooler, more classic year such as 2010 or 2016." - Jeb Dunnuck

"…the 2018s are ripe, sexy wines loaded with fruit and texture, yet they also display a remarkable freshness and purity (as well as singular characters) that make the vintage so special. It's not a year that favored one side of the river over another, and there are truly profound wines from both the Right and Left Banks." - Jeb Dunnuck

"The best 2018s are aromatically intense, deep, dark wines that beautifully marry fruit intensity with structure." – Vinous Media

You can view a listing of our 2018 Bordeaux futures available for purchase.

Cheers!