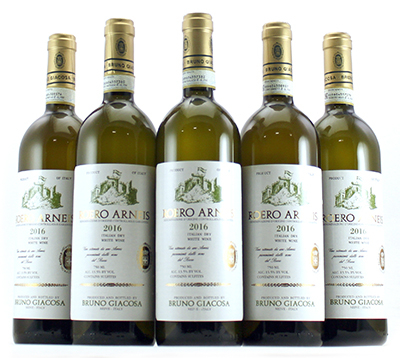 If you're looking for a new white wine to enjoy for spring that offers both value and great quality, we have a terrific recommendation below.

Bruno Giacosa, one of Italy's greatest winemakers and a well-known legend in Piedmont, passed away earlier this year. While he was known for crafting incredible Barbaresco and Barolo from Nebbiolo, he also bottled amazing examples of Arneis. "Best known for his reds, Giacosa's Roero Arneis is yet another string to his bow." – Decanter

Arneis is an Italian white grape, somewhat difficult to grow, that is both crisp and floral yet dry and full-bodied. It often has notes of pears, apricots and almonds. Giacosa's 2005 vintage actually received the highest score ever in Robert Parker's Wine Advocate for this varietal. His newest release is the 2016 vintage, which scored 92+ points and is the second highest score for the varietal in Robert Parker's Wine Advocate.

"The 2016 Roero Arneis was bottled on Saint Valentine's Day and that's a fitting touch... This is a fresh and buoyant wine that is loaded with tangy tropical fruit, pineapple and honeydew melon. The wine's intensity is exuberant, pronounced and refreshing. Dustings of fine mineral and salty limestone characteristics give the wine a brilliant sense of polish and crispness. Bruna Giacosa tells me the fruit harvested in 2016 was beautiful. She distinctly remembers the perfumes of the Arneis grapes as they came into the winery on the back of a truck during harvest. This is a beautiful white wine." – Robert Parker's Wine Advocate

With a price tag of only $23.95, the 2016 Bruno Giacosa Roero Arneis is perfect to have on hand for spring and summer. Enjoy it as an aperitif or with starters, as well as vegetable, poultry or ham courses or dishes with carbonara or lighter cheese sauces.

Take advantage of an incredible price on this 92-pointer from a legendary producer before it sells out!

Cheers!