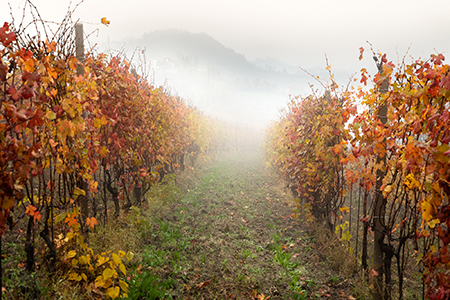 Summer is now behind us, and fall is in full swing, which means shorter days, cool temperatures, crisp breezes and falling leaves are the norm. It's the season for football, pumpkin spice everything and the time of year when we wine lovers move to more seasonally appropriate wines. We're sharing a few seasonal staples that we'll be sipping on during the transition from warm weather to cool days.

Roussanne
Fall isn't just for red wines. We love enjoying a full-boded white wine, such as Roussanne, as the temperatures cool. You'll find this varietal most often in the Rhone region, but you can also find it in California. We recommend 2016 Alban Vineyards Roussanne from California, which has been called "one of the standout expressions of Roussanne in California…" (Jeb Dunnuck). This bottle will cost you less than $50 and leave you smiling on a cool autumn day. 93 points.

Pinot Noir
Pinot Noir may be the obvious choice this time of year and for good reason. It's a very food-friendly varietal, so it pairs well with a lot of different dishes. Top Pinot Noirs aren't just coming out of Burgundy – California and Oregon are producing excellent wines, and quality has never been better. 2015 Brewer-Clifton Pinot Noir Santa Rita Hills is from an amazing producer, has a score of 94 points and is under $36. This is a solid choice that offers great quality for the money. If you're looking to branch out into Oregon Pinot Noir, check out 2016 Ayres Pinot Noir Lewis Rodgers Lane Ribbon Ridge ($31.99 / btl). This wine is very limited, with only 251 cases produced, and you'll be happy you opened this beauty.

Cabernet Sauvignon
Cabernet Sauvignon should definitely be on your fall wine list. For a more affordable choice, check out the 2015 Waterstone Cabernet Sauvignon, which could offer the best bang for the buck in Napa Valley Cabernet. It's priced at only $33.95, but could easily be mistaken for a wine that costs 3-4x the price. This Napa Cabernet offers the taste of Cali-Cult wine without the Cali-Cult price. If you're looking to splurge, 2013 Mondavi Reserve Cabernet Sauvignon to Kalon Vyd delivers the goods! The outstanding 2013 vintage is one of the best ever to come out of Napa Valley. This vintage also marks the 50th anniversary of the legendary Robert Mondavi's "vision to create something special in the heart of Napa Valley" (Robert Parker).

Syrah
If you're a value seeker, Cotes du Rhones are perfect to have on hand for fall. Pesquie Cotes de Ventoux Terrasses is one of our go-to values from the Rhone region, and the 2017 vintage is a winner. Priced at only $12.99, this is a wine to order by the case, which is a blend made of 60% Grenache and 40% Syrah. Jeb Dunnuck commented "I love this cuvee, which is year in, year out, one of the great value buys out there." We couldn't agree more. For a wine that's 100% Syrah, 2015 Sleight of Hand Syrah Levitation is a sure-fire winner. Production is very limited, and this full-bodied red from Washington will pair perfectly with hearty fall foods.

Tempranillo
If you're looking for a red wine to warm you up on a cool autumn day, 2015 Alegre Valganon Rioja Tinto is for you. It's a blend of Tempranillo and Garnacha, and it's a wine that's built to last. Priced at only $18.95, this 93 pointer should be on your fall list. "It is an excellent wine from an exciting new winemaking couple in the firmament of old school Rioja…" (John Gilman).

Cheers!