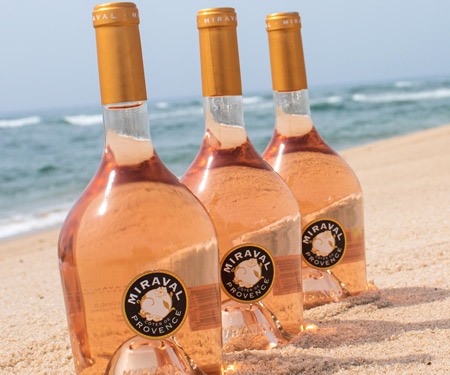 It's Rosé season, and demand for this delightful pink wine continues to be high! We have an amazing inventory of Rosé, but it never lasts long. Rosés can be enjoyed with a variety of food, making it a perfect choice to pour during summer days. It's great for the beach, a picnic or sipping poolside. The price is nice, too. You can find really great Rosés in the $20 range, and sometimes for a little less.
We're excited to feature five standout Rosés from the Provence region in the south of France, the Rosé capital of the world, that capture the true spirit of the region. The Rosés from Provence are crisp and light and not overly fruity or big. These five fan-favorite Rosés are all from the 2020 vintage, which is an outstanding vintage for Provence and one of the decade's best.
2020 Miraval Rosé (Pitt-Jolie-Perrin): Miraval Rosé has been one of the most popular Rosés for the past several summers! It's always a highly anticipated arrival and is a huge customer favorite. Brad Pitt and Angelina Jolie purchased the estate and vineyard in 2011 and teamed up with the famous winemaking Perrin family of Chateau Beaucastel. Together, they created an amazing, sought-after Rosé from one of the most prestigious estates in Provence. 2020 Miraval Rosé is a pure expression of Provencal Rosé that is priced at just $20.99. Grab a case to enjoy this summer!
2020 D'Esclans Whispering Angel Rosé: This over-achieving Rosé is always a HUGE best-seller at Sokolin. It was created by Sacha Lichine, son of the famous Alexis Lichine, who spent time working at his family's chateau in Bordeaux. 2020 D'Esclans Whispering Angel Rosé is pale pink in color, light and fresh. A world-class Rosé that is priced at only $19.99, it tastes like it costs twice the price! And you'll love the pretty bottle! It makes a great hostess gift, too.
2020 Clos Beylesse Rosé Cotes du Provence: This Rosé, with its indigo colored bottle, has to be one of the most recognized Rosé bottles in the world! You'll feel like you're right in the south of France as you sip on this beauty. Our quantities are already quickly dwindling, so if this high quality Rosé is one of your favorites, act quickly!
2020 Minuty Rosé Cuvee M: This Rosé is just what summer needs! A blend of Grenache, Cinsault and Syrah, this pink wine has a refreshing palate that you'll love from the first sip to the last drop! Chateau Minuty is a family-run wine estate, and their Rosés will transport you right to Provence! The 2020 vintage is expressive and priced at only $18.99, it's a great value. And the bottle is perfectly Instagrammable! Great to pop and pour on a week night and serve with traditional Provencal dishes.
2020 AIX Coteaux d'Aix-en-Provence Rosé: This lovely, $17.99 Rosé delivers beyond its price! Elegant and delicious, this pink wine is a blend of Grenache, Cinsault and Syrah. Pale salmon pink in color, it's fruity and fresh. AIX Rosé is an accessible wine that's perfect to open on a week night or serve at your next intimate gathering.
Cheers!