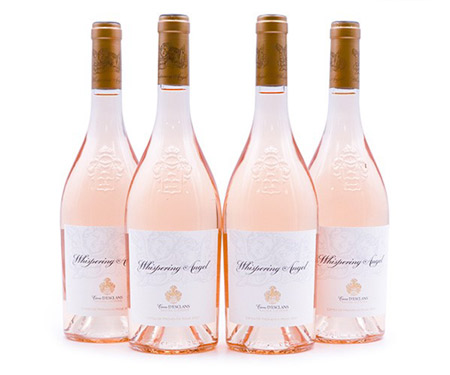 Rosé pairs well with a side of sunshine, and with spring here, and summer quickly approaching, we'd like to share the newest vintage of one of our best-selling Rosés that we love and our customers love – D'Esclans Whispering Angel Rosé.
The new 2021 vintage has arrived (92 points), and it's delicious! Produced in Provence, the Rosé capital of the world, Whispering Angel is one of the most famous Rosés of the region and a benchmark Rosé that's consistently sought-after by wine lovers every year. It's also been a Sokolin best-seller for years, and it's easy to understand why - it's delicious, pairs well with so many foods and is affordably priced at only $20.99. Made from Grenache, Cinsault and Rolle (Vermentino), it's pale in color, bone dry and very approachable.
Whispering Angel Rosé was created by Sacha Lichine, son of the famous Alexis Lichine, who spent time working at his family's chateau in Bordeaux. Sacha's "vision was to create the greatest rosés in the world igniting the "Rosé Renaissance". (D'Esclans Winery).
Whispering Angel Rosé is a world-class Rosé that's priced at only $20.99, yet it tastes like it costs twice the price. This stunning bottle also makes a great hostess gift or a terrific Mother's Day gift idea.
It's perfect for the beach, a picnic or sipping poolside and perfect to serve with seafood, shellfish, pasta dishes, lighter salads, grilled chicken, sandwiches or wraps. Pick up this pure expression of Provencal Rosé that has a 92 point score and will leave you smiling!
Cheers!