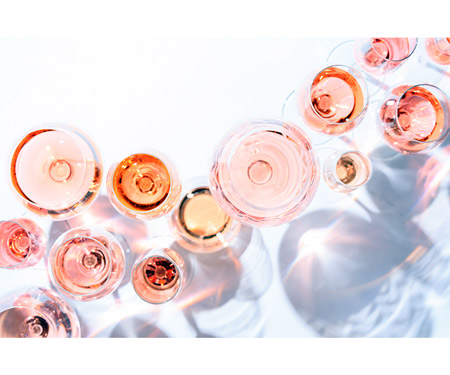 Warm weather isn't the only thing arriving lately – we've got a terrific inventory of new Rosés that just checked into stock that you don't want to miss! Rosé continues to be an in-demand category in the world of wine – it's delicious, food-friendly and very affordable.
Below, we're sharing a select handful of stylish pink wines that we love and that our customers love. These five wines are all from Provence, the Rosé capital of the world. Chances are, if you've been drinking Rosé, you've likely had one from Provence. The Rosés from this region are crisp and light and not too fruity or big. Not only are these selections delicious and drinking well now, they are all affordably priced and under $27!
2021 Clos Beylesse Rosé Cotes de Provence - $26.99
This gorgeous, royal blue glass bottle may just be the most recognized Rosé bottle on the market! It's a crown jewel, and we're always a fan of the consistently amazing quality coming from Clos Beylesse. If this is a favorite of yours, scoop up your case quickly as it's always one of the first Rosés to sell out!
2021 Chateau Sainte Roseline Cru Classe Lampe de Meduse - $17.99
This Rosé is another summer classic at only $17.99. We first started selling this wine with the 2016 vintage, and we immediately knew that we had to add it to our lineup. It's been a customer favorite for the last few summers. The bottle shape is unique and provokes thoughts of a genie's lamp or a vase waiting to be filled with a beautiful bouquet. If you think the bottle is beautiful, just wait until you taste the Rosé! Our team is blown away by the quality coming from Chateau Sainte Roseline, a prestigious, one thousand year old terroir and one of the richest historical sites in Provence. This Rosé is one of the few in Provence to have achieved the elite 'Cru Classe' status, a mark of supreme quality. It's priced at only $17.99, but don't fear underpaying for a great Rosé.
Miraval Rosé is another winner! It's been one of the most popular Rosés for the past several summers and is always a highly anticipated arrival. A huge customer favorite, Miraval Rosé is an amazing, sought-after wine from one of the most prestigious estates in Provence. It's a pure expression of Provencal Rosé that's priced at just $22.99. This Rosé will disappear quickly, so order yours before it's sold out!
2021 Minuty M Rosé Cotes de Provence - $19.99
If you're searching for a delicious Rosé that combines quality and value, Minuty Rosé Cuvee M is one of our go-to choices! A blend of Grenache, Cinsault, Syrah and Tirbouren, "the blush wine is an instant hit with its intense aromas ranging from tangy berries to tropical fruit notes." (Minuty). This is a perfect poolside or beach wine and also a great wine to kick off dinner parties at home.
2021 Peyrassol Cuvee des Commandeurs Cotes de Provence Rosé - $21.99
Founded in the 13th century by the Order of the Templars, Peyrassol is known as one of the reference points when it comes to top quality Provencal Rosé. Rosé makes up more of Peyrassol's total production than red wine or white wine, so it's the star of the show. This gorgeous, $21.99 Rosé is a terrific addition to your pink wine lineup.
These Rosés are all in stock and ready for you to enjoy this spring and summer. Serve with seafood, shellfish, pasta dishes, lighter salads, grilled chicken, sandwiches or wraps.