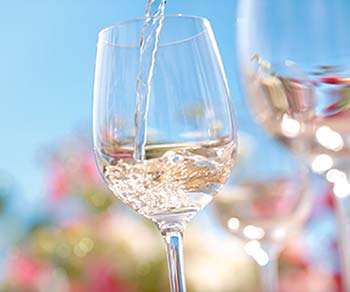 Spring is right around the corner, and that means more hours of daylight and warmer temperatures. It's also the time of year when we wine lovers move to more seasonally appropriate wines, and Chablis is one of our favorite wines to pour and enjoy when it's warm outside.
Chablis is located in northern Burgundy, and the cool climate produces wines that are sometimes described as "steely" or "flinty." Most Chablis is vinified in stainless steel tanks, and it's the crispest white Burgundy of them all. Chablis is 100% Chardonnay and is known for having less fruit flavors than Chardonnay grown in warmer climates like California. Some describe California Chardonnay as having the potential to be over-concentrated and over-oaked. However, this is not what you get with Chablis. If you've ever enjoyed a Chablis, you know that wines from Chablis have a very distinct style marked by minerality, raciness and steeliness.
Chablis has become one of the most under-priced meet over-delivering white wine regions in the planet. Today's Chablis rival the best Puligny Montrachet in complexity, flavor and length, at a fraction of the price. It's why the Chablis craze continues. In the past ten years, Chablis has become the staple white wine in so many collections – probably because of the qualitative revolution that occurred without the usual price hikes.
Our Chablis inventory has never been better and includes wines from the legends like Dauvissat, Fevre and Raveneau, as well as new-comers like Piuze and Droin that offer great value. Here are a few Chablis highlights you don't want to miss. All are from the brilliant 2017 vintage that's the best since 1989. It's A+ in quality that drinks like A+ now. There are some great vintages that take time and age, but rarely does one drink great upon release and go on for perhaps decades.
2017 Patrick Piuze Chablis Vaillons Les Minots – 93 JG - $54.95 / btl Patrick Piuze is a rising star in Chablis and part of the new guard. Even if you haven't heard of him, his wines are shockingly great. The premier crus are gorgeous and way under-priced (for now). His wines are very small production, so grab them while you can. This delicious, 93 point premier cru is an incredible deal at only $54.95. You'll be happy you opened this beauty!
2017 William Fevre Chablis Bougros Cote Bouguerots – 96 VM - $119 / btl William Fevre is one of the masters of Chablis and is known for producing some of the best values in Chablis. He's one of the only producers who charges significantly less than he could. Some of the values of his grand crus are wild, and many are priced like some producers' entry-level wines. But make no mistake – his wines are at the top of the quality hierarchy. This 96 point grand cru is an amazing bottle of Chablis from one of the best vintages in Burgundy that will leave you smiling and wanting to order more!
2017 Jean Paul Droin Chablis Fourchaume – 93 VM - $46.99 / btl This family has been producing wines in Chablis for almost 400 years, with their roots traced back to the 17th century. Droin is one of the leading Chablis producers whose quality has risen to the top over the last few years. Droin's wines deliver well beyond its price points, and if you're looking for a great quality Chablis at an affordable price, check out this vibrant wine. It's drinking well now and should continue to cruise until 2032.
Cheers!