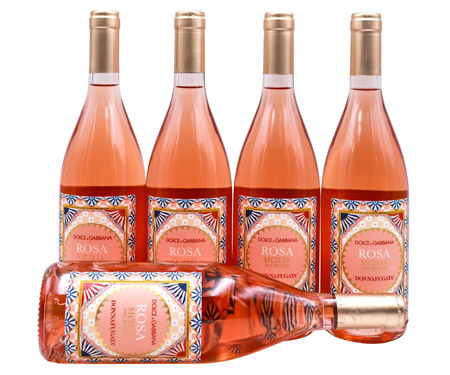 Rosé season is here, and we have a new, high-end arrival just in time for warm, sunny weather - 2021 Donnafugata Dolce & Gabbana Rosa Rosato! Their first vintage (2019) debuted two summers ago, and we're excited to offer you the newest vintage of this delicious Rosé. It comes from a partnership between two iconic Italian brands, the Italian luxury fashion designer, Dolce & Gabbana, and the Sicilian winemaker, Donnafugata.
This designer wine is an ode to Sicily, the Mediterranean's largest island, and is made of a blend of Nerello Mascalese and Nocera, two Sicilian grape varieties. It's a bright pale pink color with a bouquet of jasmine and strawberry, peach and citrus notes and is perfect to serve with shellfish, wraps, sandwiches, vegetarian dishes and delicate meats.
Just as you might expect from Dolce & Gabbana, the packaging on this bottle is absolutely beautiful. Its label features a geometric pattern with colors of red, pink, white, blue and gold and is said to be inspired by the detail on the iconic Sicilian cart.
This delightful wine is priced at $47.95, and production is very small. We have limited quantities available and don't expect this beauty to last long.
If you're interested in experiencing a taste of this delicious Sicilian Rosé, act quickly. Even if travel isn't on your calendar this summer, 2021 Donnafugata Dolce & Gabbana Rosa Rosato will transport you to the Italian coast with just one sip!