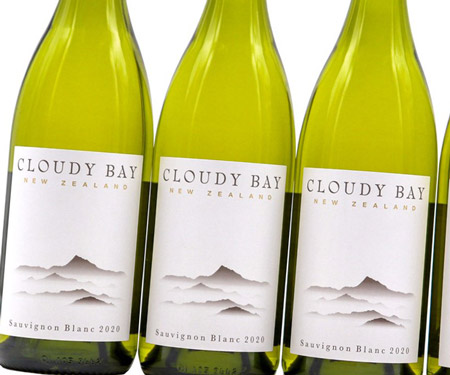 The weather is finally warming up, and we love enjoying a delicious glass of Sauvignon Blanc this time of year! Sauvignon Blanc is one of the most popular white wine varietals, and it's also one of the most affordable white wines that you can find on the market. Typically, Sauvignon Blancs are crisp, have sharp acidity and are refreshing.
This green-skinned wonder-varietal makes an excellent standalone varietal bottle and is one of the most represented white wine grapes in Bordeaux. Outside of France, you can expect to encounter this varietal in Australia, California, Chile, Italy, New Zealand and Washington.
We're sharing three of our favorites, all from different wine producing regions, and all are excellent.
2020 Cloudy Bay Sauvignon Blanc Marlborough (New Zealand) – New Zealand has some splendid Sauvignon Blancs to offer to the world, and Cloudy Bay is one of the best. "It might not have been the first Marlborough Sauvignon Blanc, but it was the one that put the style on the map – and its popularity is still as strong as ever, 35 years on." – Decanter. Cloudy Bay was established in 1985 in Marlborough, and "at the time, it was almost an unimaginable place to set-up a vineyard. But Cloudy Bay's founder - David Hohnen - was convinced of its potential to produce great wine and invested in the best land of the region." (Cloudy Bay Winery). This Sauvignon Blanc never fails to be a spring and summer favorite! Cloudy Bay is one of our go-to Sauvignon Blanc producers year after year, and our customers have come to know and love this wine! The 2020 vintage received a 93 point score and delivers beyond its $27.99 price tag. It's drinking well now. Pair this beauty with chicken or your favorite seafood dish.
2019 St Michael-Eppan Sauvignon Blanc Lahn (Italy) – Founded in 1907, this Italian estate located in South Tyrol is known for producing great quality wines. Hans Terzer is the well-respected winemaker behind this label. This 92 pointer is drinking well now and is priced at only $19.99. It offers so much bang for the buck! With this wine, you can expect "subtle aromas of limes, minerals and licorice with some ash undertones. Medium to full body with tangy acidity and round, creamy texture." (JS)
2019 Cakebread Cellars Sauvignon Blanc (California) – Founded in 1973, Cakebread Cellars, located in Rutherford, is a family owned winery known for its world-class wines. It was founded by the husband and wife team, Jack and Dolores Cakebread, and the winery is now run by their two sons. The wines from Cakebread Cellars are sought out by restaurants around the country, leaving very few bottles left for the retail space. This $31.99 Sauvignon Blanc is a great expression of the varietal and is drinking fabulous now.
Cheers!