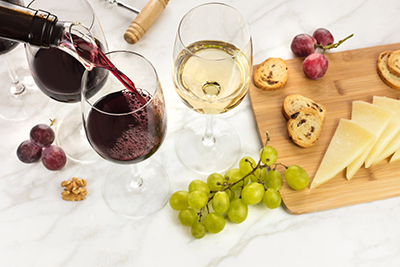 Nothing goes better together than wine and cheese, but not every cheese pairs with every wine. Impress your friends at your next get together by doing the perfect cheese and wine spread.
Pairing Tips:
Always taste the wine before you taste the cheese. Cheese has a much bigger impact on the flavors and aromas in wine than the other way around.
You want to make sure the texture of the cheese and the wine are compatible. If the cheese is heavy, it is less likely to go with a light wine since the wine will get overpowered by the strong cheese.
Hard cheeses, like cheddar, go best with oaky wines.
Note on soft cheeses, like Brie, the rind can affect the taste of the wine. Try tasting with and without the rind to see if you enjoy one more than the other.
Avoid salty cheeses all together as it can clash too harshly with the wine.
In order to get the full flavors from cheese and white wines, the cheese should be served at room temperature (around 68˚F) while the wines should be allowed to warm up to between 50˚F – 55˚F after being taken out of your wine cellar or wine fridge.
White Wines
---
Wine: Chardonnay
Pair With: Brie, Gouda, Parmesan
Favorites We're Loving:
2016 Pence Ranch Chardonnay Santa Rita Hills - 750 ml
2014 Talbott Chardonnay Sleepy Hollow Vineyard - 750 ml
Wine: Sauvignon Blanc
Pair With: Feta, Goat, Mozzarella, Parmesan, Brie
Favorites We're Loving:
2014 Dipoli Voglar Sauvignon Blanc - 750 ml
2018 Cloudy Bay Sauvignon Blanc Marlborough - 750 ml
Wine: Riesling
Pair With: Bleu cheese, Feta, Cambozola
Favorites We're Loving:
2014 Trimbach Riesling - 750 ml
2016 Richter Brauneberger Juffer Riesling Kabinett Fuder 4 - 750 ml
Red Wines
---
Wine: Pinot Noir

Pair With: Goat, Chevre, Feta, Swiss, Gouda, Brie, Camembert

Favorites We're Loving:

2014 Varner Pinot Noir Spring Ridge Vineyard Hidden Block - 750 ml

2016 Soter Vineyards Planet Oregon Pinot Noir - 750 ml

Wine: Syrah

Pair With: Parmesan, Pecorino, Smoked Gouda, Dry Jack

Favorites We're Loving:

2015 Gramercy Cellars Syrah Lagniappe - 750 ml

2013 Copain Wines Syrah Hawks Butte - 750 ml

Wine: Cabernet Sauvignon

Pair With: Gorgonzola, Aged Jack, Brie, Camembert

Favorites We're Loving:

2015 Stonestreet Cabernet Sauvignon Estate - 750 ml

Cheers!