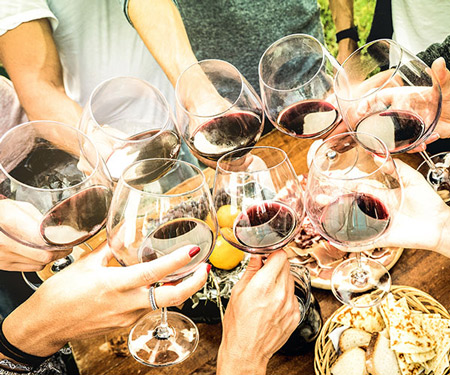 Summer has just begun, and if you're searching for amazing wines to take your backyard barbeque to the next level, Dave Sokolin is sharing his go-to reds for summer barbeques.
"When I barbecue, I look for something bold that can handle big fire and sauces from being on the grill. I also look for wines with style and subtleties that can shine through. Here are my seven picks that I will be barbecuing with this summer, with prices starting at only $14.99." - Dave Sokolin

"My Trick is Picking Barbera from Legendary Barolo Producers Like This and Telling Friends That It's Barolo! It's a Shocker!" - Dave Sokolin
2018 Oddero Barbera d'Alba – this 92 point super value from Piedmont is one to pick up today! It's one of the best deals in our inventory, and at only $14.99 bottle, it will not last long.

"Spain's Most Famous and Over-Performing Producer - Compares to Many $100+ Bottles. So Juicy!" - Dave Sokolin
2016 Marques de Murrieta Reserva – from the Castillo Ygay family, one of the most recognized producers in Spain, comes this amazing 94 pointer that's priced at only $24.95. This is your chance to taste incredible pedigree at a low price!

"A St. Emilion That Could Easily be Mistaken for a $250+ Bottle from an A+ Vintage Like 2010." - Dave Sokolin
2010 Faugeres – you can still afford to drink great Bordeaux! This wine is a great example of the value that still exists in Bordeaux, and we love sharing these gems with you. From a top vintage, 2010 Faugeres ($58.95 / btl) delivers the goods! "…This property continues to overachieve in virtually every vintage." – Robert Parker

"Mega Brunello Built for the BBQ, but It's 97 Points and Only $59.99." - Dave Sokolin
2015 Poggio Antico Brunello di Montalcino – Brunello is one of the best deals on the market when it comes to fine wine, and 2015 was a phenomenal vintage for Brunello di Montalcino! At only $59.99 for a 97 pointer, this wine offers so much bang for the buck. It's hard to find this level of price-to-points ratio in any other region.

"The Best Chateauneuf Vintage in History Makes for the Perfect BBQ Wine - Even if You Chill It Out for Summer, It Still Punches Through the BBQ." - Dave Sokolin
2016 Cristia Chateauneuf du Pape Cuvee Renaissance – if you're a Chateauneuf lover, don't miss this 96 pointer from a top vintage! "The 2016s are on another level…This is truly an extraordinary vintage." – Jeb Dunnuck. A blend of 60% Grenache and 40% Mourvèdre, this wine will leave you smiling! $59.99 / btl.

"2nd Wine of Ducru Beaucaillou in an A+ Vintage Seems Underpriced for This." - Dave Sokolin
2010 La Croix De Beaucaillou – from the famous Chateau Ducru Beaucaillou, their second wine, 2010 La Croix De Beaucaillou, offers the chance to experience the amazing pedigree of this premier Bordeaux chateau at a fraction of the price. This 94 point wine is also from the 2010 vintage, an A+ vintage.

"Imagine if California Cult Wine was Designed in Bordeaux and Cost 1/10th of the Price, and You've Got Capture." - Dave Sokolin
2016 Capture Revelation Cabernet Sauvignon – this limited production, 98 point Napa beauty is a gorgeous Cab that drinks now, but will age for two more decades! It's also a steal at 35% off the release price ($89 /btl) and a fraction of the price of some of the other California big names. Don't pass up this rare buying opportunity!
Cheers!