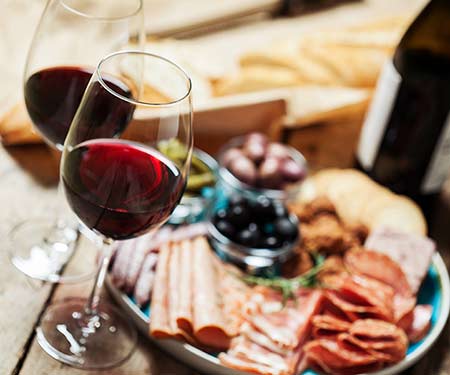 Searching for exciting, quality wines that are also affordable? We're your source to the most sought-after, rare wines on the planet, and we're also equally passionate about discovering inexpensive gems that still taste like the world's greatest wines. Below, we're sharing five wines that you need to add to your wine list, and the best part is that they're all under $25! These wines are ready to ship today.
2019 Wairau River Wines Sauvignon Blanc (New Zealand) – summer is the perfect season to enjoy a nice, chilled Sauvignon Blanc, and this under $15 one is so appealing and satisfying! Our expert team searches high and low to locate great quality wines at every price level, and this Sauvignon Blanc is an example of the amazing, everyday values that we offer. Pair this 91 pointer with chicken or your favorite seafood dish and enjoy on a warm summer evening.
2017 Oberon Wines Cabernet Sauvignon (California) – Napa Cabernet lovers, you don't want to miss one! This terrific, 92 pointer comes from the Michael Mondavi family, known for their premium wines. At only $19.95, this wine is a screaming deal when it comes to Napa Cabernet! We quickly sold out of our first allocation and just received another small allocation. If you missed out on it the first time, or are just learning about this wine for the first time, act quickly – it will sell out again soon! This Cabernet will take your favorite burger or steak to the next level. It's drinking well now and should cruise until 2027.
2019 Miraval Rose (Pitt – Jolie – Perrin) (Provence) - Miraval Rosé has been one of the most popular Rosés for the past few summers. It's always a highly anticipated arrival and is a huge customer favorite. Brad Pitt and Angelina Jolie teamed up with the famous winemaking Perrin family of Chateau Beaucastel, and together created an amazing, sought-after Rosé from one of the most prestigious estates in Provence. It's a pure expression of Provencal Rosé that is priced at just $21.99. It offers up notes of strawberries, white fruit and white flowers on the fresh nose with a lightly textured and silky, medium-bodied profile. It's perfect for summer, with a crisp and lingering finish that pairs perfectly with fish, pasta and grilled meat.
2015 Teyssier (Bordeaux) – "I love this low-priced Saint Emilion!" – Dave Sokolin. This 92 point, $22.95 wine comes from a famous winemaker, Jonathan Maltus, who created the 100 point 2010 Le Dome. 2015 Teyssier is a very special wine because it gives you a great introduction into the style of a very high end, talented winemaker at a super low price. Maltus is an Englishman who moved to Bordeaux in 1992 and then two years later, bought his first vineyard, Chateau Teyssier. His wines have received international praise, and he was considered to be part of a group of winemakers described as "garagiste" winemakers. Garagistes handcrafted wines that were very small in production - in fact, so small that they could be made in a garage. The 2015 Bordeaux vintage overall is very good to outstanding, and this $22.95 wine offers tremendous quality for the money.
2018 Domaine de Roally Vire Clesse (Burgundy) – this 100% Chardonnay will make your summer more fun! It's actually the best inexpensive white Burgundy we've tasted. Priced at only $23.99, yet it tastes like it costs 2-3x the price. We've sold through countless cases of this low-priced gem, and so many of our customers love this refreshing wine. It continues to be one of our go-to white Burgundy values every spring and summer and over-delivers for the price. Plus, it drinks great young – just pop, pour and enjoy!
Cheers!