'Tis the season for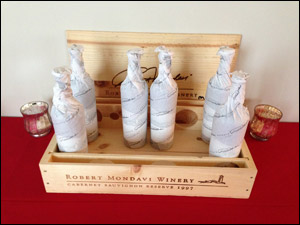 , and this past weekend, we hosted a small dinner for family and friends. Wine always takes center stage on our table, as you can see from the picture. For this special night, we decided to indulge a bit and pulled out a 6 pack of 1997 Mondavi Cabernet Sauvignon Reserve from our cellar with the bottles still in the original paper. So cool! Robert Mondavi needs no introduction to wine lovers?a trailblazer, a legend and an icon. We always enjoy the back vintages of the Reserve.

The 6 pack OWC doubled as a centerpiece for our food table, and even we don't often see OWCs used for that purpose! But it looked fantastic, and everyone noticed it too. For appetizers, we paired the Mondavi Reserve with various cheeses from artisanalcheese.com, one of our new strategic partners. If you haven't checked them out, we highly recommend you do. Their cheeses are divine! And then for the main course, we paired the Mondavi with ribeyes from Flannerybeef.com, another strategic partner of Sokolin's. They have to be one of the best kept secrets around, but not for long! Robert Parker is a fan of theirs, saying, "I think I just discovered what a 100 point piece of meat tastes like."

Other dishes we served included penne pasta with sausage and olive oil and garlic marinara sauce, potatoes au gratin and sautéed green beans. The wine went incredibly well with each dish of the meal, and to no surprise, the ribeyes and Mondavi Reserve were mind blowing. We heard people at each table just raving about the pairing. The back vintage Mondavi from the heralded 1997 vintage had an amazing nose of dark fruits, Asian spices and even a little toasted oak. On the palate, the wine was medium bodied with an incredible balance of fruit and power and a finish that lasted 30+ seconds. Cheers to Robert Mondavi for another great bottle that turned our dinner into a memorable evening with family and friends.

We've been drinking a lot of back-vintage Cali Cabs lately, and we are huge fans of these wines! We have very tiny quantities of older Mondavi bottles in stock, so if you share our love for the same wines, we suggest you email sales@sokolin.com and scoop these up today! There is no better time than the holidays to enjoy amazing wine with family and friends.